Abstract
Salmonella enterica
serotype Typhimurium (
S. typhimurium
) initiates infection by adhering to and invading the intestinal mucosa. Bacterial multiplication in the gut-associated lymphoid tissue (GALT) is accompanied by spread to the regional lymph nodes where macrophages that line the lymphatic sinuses form a first effective barrier to prevent further spread. In humans, pigs or cattle, this host defense mechanism successfully limits bacterial expansion and the infection remains localized to the intestine and the GALT. This localized disease is termed Salmonella gastroenteritis and the prominent symptom or sign of disease is acute diarrhea (Figure 1). However, if the macrophages located in the draining lymph nodes fail to limit bacterial spread,
S. typhimurium
can cause a systemic illness. Both the immune status of the host and the innate susceptibility of the host species determine whether infection results in localized or systemic disease. For instance, in children, elderly or immunocompromised patients
S. typhimurium
infections are more frequently complicated by bacteremia and systemic illness, than in immunocompetent individuals (Miller
et al
. 1995). In contrast, in immunocompetent, genetically susceptible mice,
S. typhimurium
causes a systemic disease called murine typhoid (Figure 1). During this infection
S. typhimurium
spreads from the GALT by way of the efferent lymphatics and the thoracic duct into the vena cava.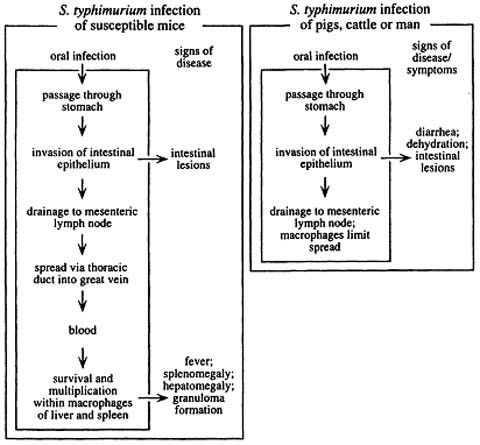 Keywords
Typhoid Fever 
Murine Macrophage 
Pathogenicity Island 
Reactive Oxygen Intermediate 
Reactive Nitrogen Intermediate 
These keywords were added by machine and not by the authors. This process is experimental and the keywords may be updated as the learning algorithm improves.
Copyright information
© Springer Science+Business Media New York 2000