Spatio-Temporal Parameters: The Case of the MAP Kinase Pathway
Part of the Endocrine Updates book series (ENDO, volume 17)
Abstract
Eucaryotic cells have developed signal transduction networks that allow them to convey extracellular signals in the nucleus to induce the proper response at the gene level. A common way for the cell to "reprogram" its genetic information is through specific protein phosphorylation. Mitogen Activated Protein Kinases (MAPKs) play a key role in this action. MAPK pathways are activated in response to a large array of stimuli from growth factors to environmental stress [1–2]. Furthermore, they are evolutionarily conserved from yeast to human [3]. These pathways are organized around a core signaling module composed of three kinases that are sequentially activated (Fig. 1). The first kinase is a serine/threonine kinase called MAP kinase kinase kinase or MKKK. When activated, it phosphorylates a dual specificity kinase (MAP kinase kinase or MKK) on two serine or threonine residues. Phosphorylated MKK activates in turn the serine/threonine kinase MAP kinase or MAPK on the threonine and tyrosine residues of the consensus motif TXY (where T is threonine, X is glutamic acid, glycine or proline, and Y is tyrosine) [4]. Finally, activated MAPK phosphorylates diverse substrates including nuclear transcription factors, membrane proteins and cytoplasmic substrates which are all modified on the threonine or serine of the PX(T/S)P consensus motif (where P is proline, X an indifferent amino acid and S is serine). Considering that MAPK pathways have been duplicated within the same cell to deliver specific biological responses, the cell has evolved various means that prevent inappropriate crosstalk between the different MAPK modules that possess a strong degree of homology. Two mechanisms ensure the specificity of activation: i) insulation of the protein kinases of a same module by scaffold proteins, and ii) presence of specific docking sites on the kinases and their substrates. Furthermore, anchor proteins and specific MAPK phosphatases have been characterized that regulate the spatio-temporal activation of the MAPK pathways. In the first part of this chapter we will rapidly review the currently known mammalian MAPK pathways. In the second part we will discuss the factors controlling the specificity in the MAPK modules and how these mechanisms have evolved from yeast to human. Finally, the key elements controlling the spatio-temporal activity of the growth factor response will be highlighted with a special emphasis at the level of the p42/p44 MAPK pathway.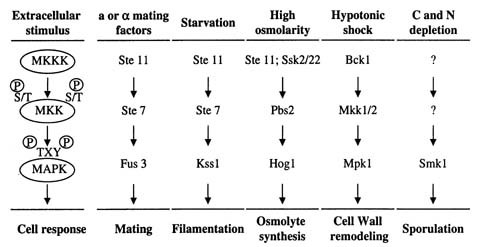 Keywords
MAPK Pathway 
Scaffold Protein 
Dual Specificity Phosphatase 
MAPK Phosphatase 
MAPKAP Kinase 
These keywords were added by machine and not by the authors. This process is experimental and the keywords may be updated as the learning algorithm improves.
Copyright information
© Springer Science+Business Media New York 2002