Abstract
In vivo voltammetry and microdialysis are two leading techniques for monitoring neurochemistry in the brain. This paper addresses the state of the art of voltammetry and microdialysis as they have evolved from their respective beginnings. Voltammetry is an old and well established electrochemical method. However, the development and application of in vivo voltammetry and microdialysis for measurement of neurotransmitters began about the same time in the 1970's. In R. N. Adams laboratory at the University of Kansas, carbon paste electrodes were first put in ventricles of the rat brain and then in the brain itself.1,2 The developments that followed have been reviewed.3 About this same time, Urban Ungerstedt, developed the microdialysis probe, based on the idea of exchange of substances across a blood capillary.4 This was an extension of the earlier push-pull device of Gaddum5 and the dialysis devices of Bito et al.6 and Delgado et al.7 for sampling the extracellular environment of the brain. More than a thousand papers a year are now published using microdialysis.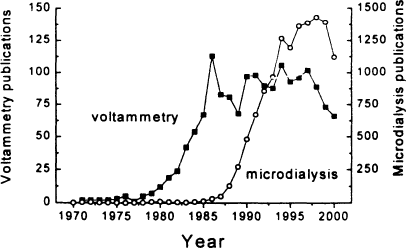 Keywords
Vesicular Release 
Carbon Fiber Electrode 
Carbon Fiber Microelectrode 
Transmitter Amino Acid 
Additional Regulatory Mechanism 
These keywords were added by machine and not by the authors. This process is experimental and the keywords may be updated as the learning algorithm improves.
Copyright information
© Springer Science+Business Media New York 2002