Determination of the Conformation of Nucleic Acids by Electronic CD
Abstract
The natural and synthetic nucleic acids are polymers of nucleotides that in turn are made up of an aromatic base, a sugar, and a phosphate group. The bases are the chromophores that absorb ultraviolet light to undergo electronic transitions, which begin at 300 nm and continue into the vacuum UV region. In the case of DNA these bases are adenine (A), guanine (G), cytosine (C), and thymine (T); in the case of RNA the bases are A, G, C, and uracil (U), which is closely related to T both structurally and chromophorically. The structure of these five bases is given in Fig. 1. The sugar is ribose in the case of RNA and 2′-deoxyribose in the case of DNA. The electronic transitions of the ether and hydroxyl groups of these saturated sugars begin at 200 nm, but their weak intensity is buried under the strong intensity of the electronic transitions of the aromatic bases. Electronic transitions of the phosphate group begin even further into the vacuum UV. Therefore, the CD of the nucleic acids that corresponds to the electronic transitions results from the bases.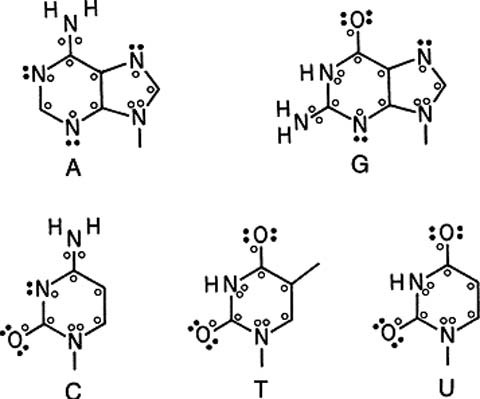 Keywords
Circular Dichroism 
Negative Band 
Sodium Perchlorate 
Anti Conformation 
Normal Absorption Spectrum 
These keywords were added by machine and not by the authors. This process is experimental and the keywords may be updated as the learning algorithm improves.
Copyright information
© Springer Science+Business Media New York 1996