Chemistry, Biological Effects, and Mechanism of Action of Plant Growth Substances
Abstract
Dose-response curves for all of the known plant growth substances are bell-shaped, as shown in Figure 3.1. At lower concentrations the effects are typically stimulatory reaching a maximum beyond which they become inhibitory. There are two general classes of hormones found in animal systems, steroid and peptide, both of which probably also occur in plant systems. The steroid class forms a hormone/receptor (defined as those molecules that specifically recognize and bind the hormone and, as a consequence of this recognition, can lead to other changes or series of changes which ultimately result in the biological response) complex in the cytoplasm, which is then transported into the nucleus where mRNA is synthesized, resulting in a given response (Figure 3.2a). The second class are peptide hormones which bind to a receptor at the plasmamembrane, altering the enzyme adenylate cyclase and activating cyclic AMP from ATP, which acts as a secondary messenger for a given response (Figure 3.2b). In order for hormone binding in either class to be specific, the following criteria must be met (Cuatrecasas et al. 1977):
1.

There must be strict structural and steric specificity.

 

2.

The response must be saturable, thereby indicating a finite and limited number of binding sites.

 

3.

The response must be tissue-specific.

 

4.

The hormone must bind with a high affinity in order to show physiological relevance.

 

5.

Hormone binding must be reversible showing kinetics consistent with a physiological response observed and biological activity.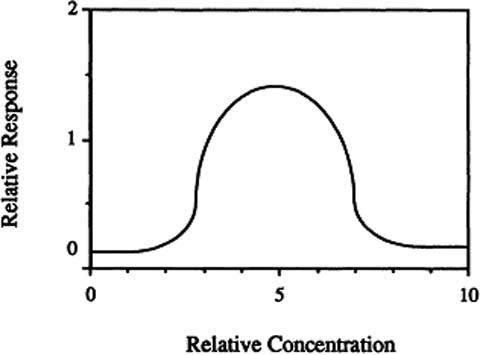 Keywords
Salicylic Acid 
Ethylene Production 
Jasmonic Acid 
Auxin Transport 
Ethylene Biosynthesis 
These keywords were added by machine and not by the authors. This process is experimental and the keywords may be updated as the learning algorithm improves.
Copyright information
© Springer Science+Business Media Dordrecht 1996