Abstract
A composite material is a material that has a chemically and/or physically distinct phase distributed within a continuous phase. The composite generally has characteristics better than or different from those of either component. The matrix phase is the continuous phase, while the distributed phase, commonly called the reinforcement phase, can be in the form of particles, whiskers or short fibers, continuous fibers or sheet. Figure 1.1 shows the types of composite based on the form of reinforcement. Oftentimes it is convenient to classify different types of composite as per the matrix material characteristics, e.g. polymer matrix composites (PMCs), metal matrix composites (MMCs) and ceramic matrix composites (CMCs). Figure 1.2 shows this schematically. The reinforcement in any matrix can be polymeric, metallic or ceramic. Polymeric matrix composites containing reinforcement fibers such as carbon, glass or aramid are quite commonly used as engineering materials. Metals containing ceramic particles, whiskers or fibers (short or long) are also gaining in importance. The ceramic matrix composites are the newest entrants in the composites field.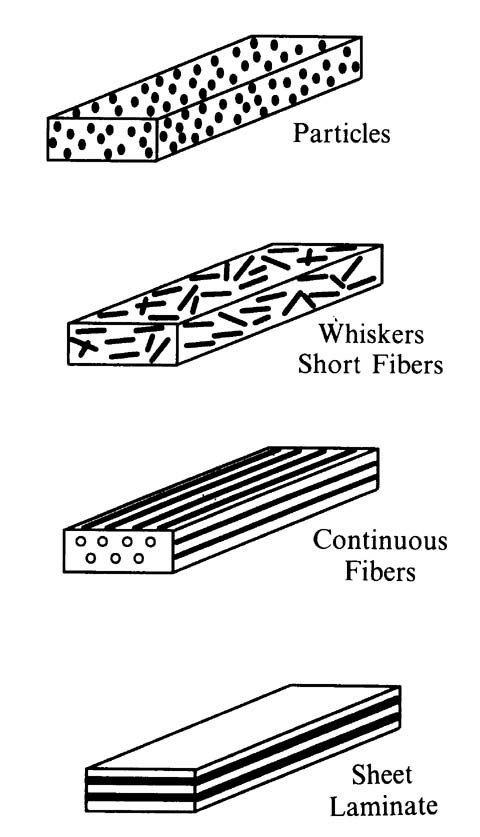 Keywords
Fracture Toughness 
Ceramic Material 
Silicon Nitride 
Ceramic Matrix Composite 
Titanium Diboride 
These keywords were added by machine and not by the authors. This process is experimental and the keywords may be updated as the learning algorithm improves.
References
1.

Hillig, W.B. (1985)

Tailoring Multiphase and Composite Ceramics

, Plenum Press, New York, p. 697.

Google Scholar

2.