The Order Planctomycetales and the Genera Planctomyces, Pirellula, Gemmata, and Isosphaera
Abstract
The order Planctomycetales comprises a remarkable group of budding bacteria. They and their nearest relatives, the chlamydiae (Weis-burg et al., 1986) (see Chapter 202), are the only known cell-wall containing eubacteria that lack peptidoglycan. Furthermore, the planctomycetes are morphologically distinctive because of their budding division, their spherical to ovoid cells with crateriform pits (Figs. I and 2), and the nonprosthecate appendages (stalks) produced by some members of the group (Fig. 3). In some species the stalks, which are multifibrillar bundles or fascicles (Fig. 2), are too thin to be discerned by light microscopy. Multicellular aggregates or rosettes are formed by some species that produce polar holdfasts (Fig. 3). One genus,
Isosphaera
, is a multicellular fila-mentous bacterium that moves by gliding. Other motile members of the group produce flagella. Knowledge of the order is limited due to the relatively few species that have been obtained in pure culture and characterized.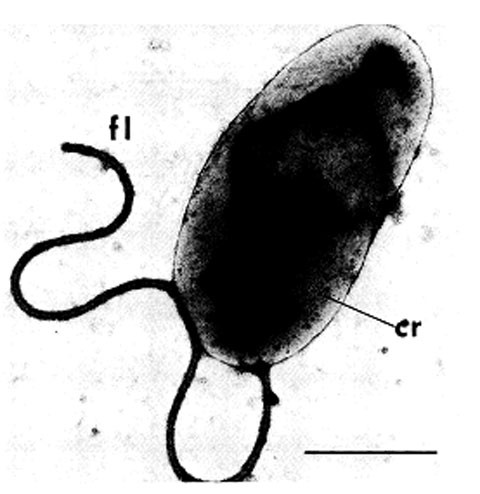 Keywords
Swarmer Cell 
Ovoid Cell 
Soil Extract Agar 
Ampicillin Sodium Salt 
Prosthecate Bacterium 
These keywords were added by machine and not by the authors. This process is experimental and the keywords may be updated as the learning algorithm improves.
Copyright information
© Springer Science+Business Media New York 1992