Abstract
The myxobacteria are Gram-negative, unicellular, gliding bacteria with rod-shaped vegetative cells (Fig. 1). Because of their gliding movement, colonies develop as thin, film-like, spreading swarms, particularly on media low in organic constituents (lean media) (Fig. 2). Under starvation conditions, the myxobacteria undergo an impressive process of cooperative morphogenesis: the vegetative cells aggregate and pile up, and the resulting cell mass differentiates into a fruiting body (Fig. 3). Myxobacterial fruiting bodies show various degrees of complexity, both morphologically and structurally. They typically measure between 50 and 500 μm, and they can thus be easily seen with the naked eye. Within the maturing fruiting body, a cellular differentiation takes place during which the vegetative cells convert into short, fat, optically refractile myxospores (Figs. 1 and 3). The myxospores are desiccation resistant and allow the organism to survive unfavorable environmental conditions.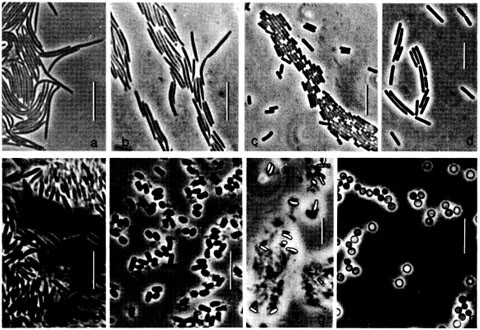 Keywords
Vegetative Cell 
Fruiting Body 
Agar Surface 
Mature Fruiting Body 
Bacteriolytic Enzyme 
These keywords were added by machine and not by the authors. This process is experimental and the keywords may be updated as the learning algorithm improves.
Copyright information
© Springer Science+Business Media New York 1992