Abstract
Coronary heart disease (CHD) is a major cause of disability and death in the United States, especially for persons over 50 years of age and for the elderly [1]. This is true for both men and women, despite the fact that men tend to evidence more CHD than women at any age by a ratio of 2:1. Statistics from the Framingham Heart Study (figure 14-1) show, for example, that by age 60 every fifth man will have already developed CHD (as indicated by angina pectoris, myocardial infarction, coronary insufficiency, or coronary death); 1 in 17 women will also be affected by CHD at 60 years of age. Offsetting this rather pessimistic statistic, however, is the fact that there has been a noticeable decline in CHD mortality over the past 10 to 15 years. Irrespective of the reasons behind this drop in CHD death rates, it now seems clear that an increasing percentage of persons suffering an acute episode of CHD will, in fact, survive and will then be faced with the prospect of altering their premorbid life-style to accommodate their illness. This change in life-style, depending on the severity and complexity of the CHD event, may be reflected in day-to-day work habits, sexual function, social and recreational activities, relationship with spouse and family, and even personality [2–6]. Such change calls forth strategies for coping and new behaviors for short- and long-term adaptation to illness, some of which are clearly successful (for example, compliance with medical regimen) and others (for example, denial) that lead to maladjustment and often to increased risk of further episodes of CHD and/or death. In this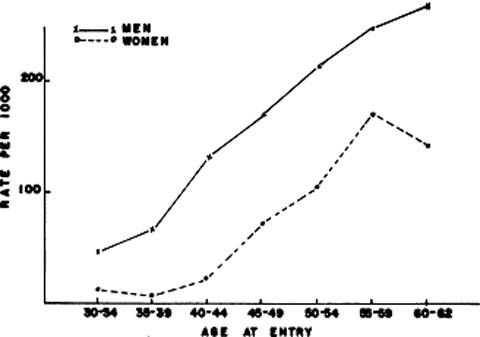 chapter, we will consider those aspects of psychological adaptation to CHD that are particularly germane to the elderly patient, as well as those patients who are at what might be called the pre-elderly or transition phase of life (50 to 59 years) when they first experience some manifestation of CHD.
Keywords
Coronary Heart Disease 
Acute Myocardial Infarction 
Sexual Function 
Heart Attack 
Cardiac Rehabilitation 
These keywords were added by machine and not by the authors. This process is experimental and the keywords may be updated as the learning algorithm improves.
Copyright information
© Springer Science+Business Media Dordrecht 1984