Abstract
Oxidative metabolism by cytochrome P-450 dependent monooxygenases represents one of the most prevalent mechanisms by which nonpolar xenobiotic substrates are detoxified in mammals. Unfortunately, the same enzyme system also plays a major role in metabolic activation of many of these substances to compounds with advere biological activity. Polycyclic aromatic hydrocarbons (PAH)
+
represent such a class of compounds which are activated by cytochrome P-450 and epoxide hydrolase to carcinogenic, mutagenic, and toxic metabolites. Bay-region diol epoxides have emerged as the most important class of ultimate carcinogens in the case of the PAH (Conney et al., 1978; Jerina et al., 1976; Nordqvist et al., 1980). The metabolic activation pathway that leads to bay-region diol epoxides is illustrated in Fig. 1 for the carcinogenic PAH benzo[a]pyrene (B[a]P). The bay-region in B[a]P is the sterically hindered region between positions 10 and 11. The pathway consists of initial oxidation of the hydrocarbon to B[a]P 7,8-oxide, epoxide hydrolase catalyzed hydrolysis of the arene oxide to form B[a]P 7,8-dihydrodiol, and subsequent oxidation of the dihydrodiol by cytochrome P-450 to 7,8-diol-9,10-epoxides (Fig. 1).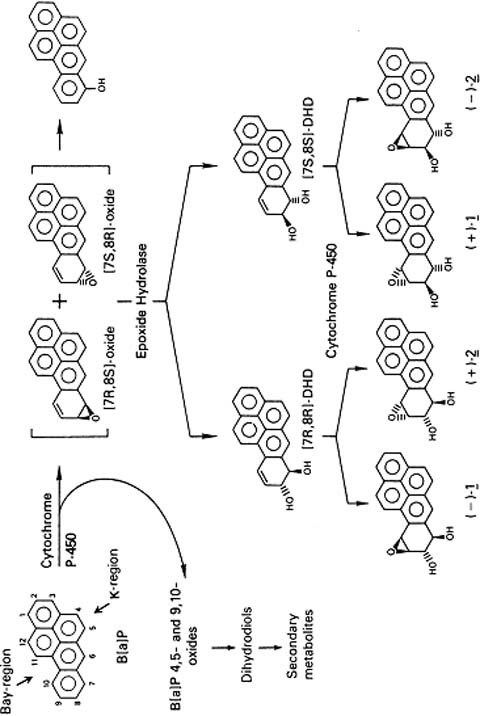 Keywords
Polycyclic Aromatic Hydrocarbon 
Liver Microsome 
Epoxide Hydrolase 
Hepatic Cytochrome 
Polynuclear Aromatic Hydrocarbon 
These keywords were added by machine and not by the authors. This process is experimental and the keywords may be updated as the learning algorithm improves.
Copyright information
© Springer Science+Business Media New York 1982