Influence of Mechanical Constraints on Critical Currents of Superconducting Surface Layers of Nb3Sn on Niobium and V3Ga on Vanadium in Transverse Magnetic Fields
Part of the Advances in Cryogenic Engineering book series (ACRE, volume 9)
Abstract
Soft superconductors in general show an increase In critical temperature [1] when strained In one direction. However, elastic torsion seems to have no Influence on the critical field [2]. Past work [3] has shown that superconducting surface layers of Nb3Sn on niobium and core wires [4] under pull, torsion, and uniaxial compression exhibit a decrease in critical temperature which Is governed by a parabolic relationship. This effect has now also been established for superconducting surface layers of V3Si and V3Ga on vanadium. These results have led us to the search for a similar empirical relationship- between the critical currents and constraints In transverse magnetic fields. Such a reproducible relationship could not be found since a well-defined equation for the quenching curve does not exist. However, a remarkable decrease in the critical currents was found at fixed magnetic field with Increase of the applied constraint. This is In contrast to results for Nb-Zr [5], a ductile material, which shows an increase in critical current after suitable deformation.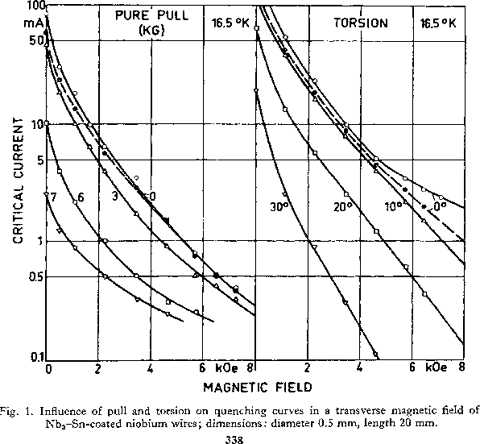 Keywords
Critical Current 
Transverse Magnetic Field 
Mechanical Constraint 
Cylindrical Layer 
Nb3Sn Layer 
These keywords were added by machine and not by the authors. This process is experimental and the keywords may be updated as the learning algorithm improves.
Copyright information
© Springer Science+Business Media New York 1964