Concern for Climate Change
Abstract
As evidence mounted on the effect of human development on global climate change, reduction in greenhouse gas (GHG) emissions became a major consideration in the planning of transportation systems as well as other areas of human activity. California was the first state to set a limit on GHG emissions. Other states and metropolitan attempted to limit GHG emissions by reducing vehicle usage and shifting traffic to alternative modes including walking and biking. Some areas tackled spreading land development patterns that caused increased vehicle travel by implementing compact development with mixed uses. And the federal government issued guidance to reduce GHG emissions.
Keywords
Transportation Infrastructure 
Vehicle Mile Travel 
Rail Service 
Passenger Rail 
Compact Development 
These keywords were added by machine and not by the authors. This process is experimental and the keywords may be updated as the learning algorithm improves.
As evidence mounted on the effect of human development on global climate change, reduction in greenhouse gas (GHG) emissions became a major consideration in the planning of transportation systems as well as other areas of human activity. California was the first state to set a limit on GHG emissions. Other states and metropolitan attempted to limit GHG emissions by reducing vehicle usage and shifting traffic to alternative modes including walking and biking. Some areas tackled spreading land development patterns that caused increased vehicle travel by implementing compact development with mixed uses. And the federal government issued guidance to reduce GHG emissions.
The potential consequences of climate change could have serious impacts on the transportation sector. Transportation infrastructure is expensive and not flexible enough to avoid the negative effects of future rising sea levels. Transportation planners now needed to mitigate to effects of climate change and adapt as needed to such changes. Such actions will affect the design, location and operation of transportation systems.
During this period, there was a recognition that funding for transportation was becoming limited, both from the federal and state levels. The federal government was favoring a limited discretionary grant approach to transportation financing as well as expanded use of pricing.
The transportation planning process was criticized for holding to older technical procedures and not adapting more appropriate analysis tools that better addressed the new concerns of policymakers and citizens. However, a few pioneering MPOs were experimenting with more advanced analysis techniques.
California's Global Warming Solutions Act
In 2006, California became the first state in the nation to pass legislation that set an absolute statewide limit on GHG emissions. The Global Warming Solutions Act of 2006 set the state's 2020 GHG emissions reduction goal into law. It directed the California Air Resources Board to begin developing discrete early actions to reduce GHGs while also preparing a scoping plan to identify how best to reach the 2020 limit. The reduction measures to meet the 2020 target were to be adopted by the start of 2011 (California Air Resources Board 2012).
In response, a plan was prepared and approved by the ARB Board December 12, 2008, which provided the outline for actions to reduce GHGs in California. The approved scoping plan indicated how these emission reductions will be achieved from significant GHG sources via regulations, market mechanisms. and other actions. The ARB had already approved a 2020 emission limit of 427 million metric tons of carbon dioxide equivalent (MMTCO2E) of GHGs in December 2007.
Also in December 2007, the Board adopted a regulation requiring the largest industrial sources to report and verify their GHG emissions. The reporting regulation served as a solid foundation to determine GHG emissions and track future changes in emission levels. The Board identified nine discrete early action measures including regulations affecting landfills, motor vehicle fuels, and refrigerants in cars, tire pressure, port operations and other sources in 2007 that included ship electrification at ports and reduction of high GWP gases in consumer products.
The Air Resources Board would establish targets for transportation-related GHG emissions for regions throughout California, and pursue policies and incentives to achieve those targets. It would adopt and implement direct measures to reduce emissions and protect public health, including California's clean car standards, goods movement measures and the Low Carbon Fuel Standard. The State adopted a Clean Cars Program which included updating its core vehicle programs, known as the Low Emission Vehicle Program and the Zero Emission Vehicle Program. The state was also updating its Clean Fuels Outlet program to ensure the necessary alternative fuels are available to go with our clean cars.
In 2011, the Board adopted a cap-and-trade regulation. The cap-and-trade program covered major sources of GHG emissions in the State such as refineries, power plants, industrial facilities, and transportation fuels. The cap-and-trade program included an enforceable emissions cap that would decline over time. The State would distribute allowances, which were tradable permits, equal to the emissions allowed under the cap. Sources under the cap needed to surrender allowances and offsets equal to their emissions at the end of each compliance period. The law's cap-and-trade measure, which was scheduled to begin that same day, will go into effect on January 1, 2013. The polluters that will be covered under the program will have another year to comply before they were required to reduce emissions under the program. While compliance would be delayed by a year, the total amount of emission reductions required remain the same. This change gave California more time to hone the regulation but ensured it can deliver continued economic benefits and meet its environmental goals. Overall, AB 32 policies were being designed so that they can be harmonized with and complement national and international climate change policies (Environmental Defense Fund 2012).
Metropolitan Travel Forecasting: Current Practice and Future Direction
In 2003, the Transportation Research Board conducted a peer review of the travel demand modeling of the Metropolitan Washington Council of Governments' (MWCOG) Transportation Planning Board (TPB), the MPO for Washington, D.C. (Transportation Research Board 2003). In the course of this review, it became apparent that little information was available to practitioners to assist them in making judgments about state-of-the-practice techniques for model development and application. Although the NRC committee that conducted the review was charged with assessing whether the modeling of the MWCOG TPB was state of the practice, the committee had to rely on its judgment in making this assessment, rather than on detailed information about how key technical issues are treated by the MPO's peers.
Consequently, US DOT funded a TRB study to gather information needed to determine the national state of practice in metropolitan area travel demand forecasting by MPOs and state departments of transportation. A committee was formed to carry out this work. The committee was tasked with assessing the state of the practice in travel demand forecasting and identifying shortcomings in travel forecasting models, obstacles to better practice, and actions needed to ensure the use of appropriate technical approaches. This report provides the requested assessment and recommendations for improvement and is designed for officials and policy makers who rely on the results of travel forecasting. A separate report commissioned by the committee is intended for readers with an interest in the technical details of current practice (Transportation Research Board 2007).
The findings summarized above reveal that most agencies continue to use a trip-based three- or four-step modeling process that, while improved during the past 40 years, has remained fundamentally unchanged. These models have basic, documented deficiencies in meeting current modeling needs. There are also deficiencies in current practice—particularly data gaps—that will not be resolved by switching to more advanced models. The institutional environment for travel modeling has devolved much of the responsibility for the development of travel models to the states and MPOs, although the federal government retains a strong interest in the area. Advanced models that better meet the needs of MPOs have been developed and satisfactorily implemented by some metropolitan areas. There are, however, considerable barriers to fundamental change, including resource limitations, practitioners' uncertainty as to whether new practices will be better than those they replace, a lack of coordination among stakeholders, and inadequate investment in the development and transfer of new techniques. Accordingly, the pace of fundamental change in the field of travel forecasting has been very slow.
The committee recommended the development and implementation of new modeling approaches to demand forecasting that are better suited to providing reliable information for such applications as multimodal investment analyses, operational analyses, environmental assessments, evaluations of a wide range of policy alternatives, toll-facility revenue forecasts, and freight forecasts, and to meeting federal and state regulatory requirements. In addition, the committee recommended that:
MPOs should establish their own national cooperative research program.

MPOs should conduct formal peer reviews of their modeling practice.

The federal government should substantially increase funding for models development and implementation.

The federal government should include the results of peer reviews in their MPO certification process.

A national steering committee should be formed to coordinate travel model activities among the federal and state governments and MPOs.

A national travel forecasting handbook should be developed and kept current.

Studies should be performed to compare the performance of conventional and advanced models (Transportation Research Board 2007).
Conference on the Metropolitan Planning Organization, Present and Future
In 2006, there are more than 380 MPOs serving communities of 50,000 or greater. A conference was held in Washington, DC to explore: the organizational structure of these MPOs; their current state of the practice for decision making; approaches to integrating a wide array of additional considerations into the MPO planning process; approaches to institutionalizing an integrated approach to comprehensive planning; and, relationships with local decision-making bodies. They were also asked whether they were planning to meet federal requirements or to solve problems (Turnbull 2007).
The conferees noted that there was a substantial variety among MPOs. MPOs, even within the same state, differed widely in leadership, technical proficiency, and ability to meet basic requirements, funding, and other characteristics. While some MPOs were doing some tasks extremely well, no one MPO was doing everything well because of resource, staff, authority, and funding constraints. The limited or nonexistent authority to affect land use and security severely limited MPOs' effectiveness.
In the future MPOs needed to be nimble and quick to respond to diverse issues, as well as adaptable to changing conditions. The complexity of transportation issues in an area was more important than the size of the area in defining possible roles of MPOs. Many participants stressed the importance of MPOs adding value to the transportation planning process and providing relevancy in addition to federal process requirement. There was a need for entrepreneurial leadership at MPOs as well as the need to focus on key issues of local and regional significance. To meet these varying needs of MPOs, flexibility in federal legislation and regulations was needed.
MPOs could play a role as the forum and convener for the discussion of key issues was noted. In the future the staffs of MPOs with need to have a wide range of skills and capabilities. Entrepreneurial leadership skills would be needed by MPO directors and top staff. Collaborative and consensus-building skills would be needed to facilitate discussions among diverse groups and help these groups reach a consensus concerning plans, policies, programs, and projects Travel demand forecasting and modeling skills, including expertise in new models and techniques would be needed at MPOs. Communicating the results of the modeling process to stakeholders and the public would also be a required skill. Expertise in financing, including innovative financing methods, toll assessments, and public–private partnerships, will be needed. The ability to work with the private sector would be increasingly important. Staff with expertise in freight planning, including an understanding of logistics and the globalization of trade, would be needed at MPOs. Public involvement, public participation, and media relations will become even more necessary. A variety of skill sets would be needed at MPOs that have operating responsibilities. However, retaining staff with such skills could become a problem at MPOs and other public agencies.
Capacity building over a wide range of skills and capabilities was found to be needed. One approach to training would be to reach out to professional organizations and universities. The FHWA and FTA peer exchange programs provide one method to share information and experiences among MPOs. The Travel Model Improvement Program online exchange was another example of this approach.
The conferees described the future MPO as having the some of the following roles and characteristics:
The MPO has legal authority commensurate with its responsibilities, as well as adequate resources to carry out its responsibilities.

The planning and programming for the regional transportation system, regardless of who does it, respects and supports the regional vision and goals adopted by the MPO.

Transportation funding can be applied in as flexible a manner as deemed necessary.

MPOs are structured and function to support and further a well-articulated national transportation policy.

Activities that MPOs may be responsible for in 2020 include multimodal regional transportation planning, programming, and, as appropriate, operating.

MPOs develop partnerships that promote entrepreneurial leadership in the region.

MPOs provide leadership on regional issues and champion change based on adopted goals and policies.

MPOs facilitate agreement on regional priorities and have the authority to influence local decisions, including land use, growth, and economic development.

MPOs have the professional expertise to track the past, monitor the present, and forecast the future performance of regional transportation systems.

MPOs have grown beyond the federal enabling legislation and regulations and are not dependent on state or federal funding.

The complexity of a region, as well as the population, helps determine the status of an MPO.

MPOs provide a one-stop shop that streamlines the provision of transportation while maintaining planning and programming objectivity.
Many of the participants felt overextended dealing with a full pallet of issues they needed to address. However, it was felt that MPOs wren ideally suited to take on these roles, and to work with other agencies and groups to address critical transportation needs in metropolitan areas throughout the country. It was concluded that MPOs could plan to meet federal requirements as well as to solve problems. And that even if federal funding would decline, MPOs would continue to function
Chicago Region Environmental and Transportation Program
For almost 150 years, Chicago had been the nation's rail hub and the world's rail capital. The growth of railroads in the 1800s made the city America's crossroads. Chicago remained the busiest rail gateway in the USA, accounting for one-third of the nation's freight rail traffic. About 1,300 trains daily passed through the region that supported more than 38,000 rail-related jobs, and accounted for more than $1.7 billion in annual wages, and $22 billion in annual economic value to the region's manufacturers and businesses. As the region had grown, so had traffic jams, commuter delays and rail shipping times due to the convergence of automobiles and trucks with passenger and freight trains.
Chicago was Amtrak's primary intercity rail hub outside the Northeast Corridor. Nearly all of Amtrak's long-distance and intercity passenger rail services in the Midwest terminated at downtown Chicago's Union Station. In Illinois, Amtrak service operated almost entirely on freight-owned track and had been increasingly affected by conflict with freight operations resulting from growing rail traffic. Regional passenger rail services were operated by Metra and the Northern Indiana Commuter Transportation District (NICTD). In 2009, Metra operated more than 700 weekday trains on a network of 488 route miles with 240 stations and a daily volume of 312,700 unlinked passenger trips throughout the Chicago metropolitan region. Metra's radial lines crossed freight rail lines at grade in several locations which was a frequent cause for delays to both passenger and freight trains. The demand for commuter rail service combined with increasing freight volumes and congestion made operating timely and reliable commuter and freight rail service over a shared rail network increasingly challenging.
Anticipated future demand for freight rail service in Chicago was forecasted to nearly double over the coming 20 years. That increase would support more jobs for Illinois workers and increase economic opportunity for Illinois businesses'. However, to support the anticipated growth in economic activity, Chicago would need to meet the growing need for rail service and address other infrastructure issues.
The Chicago Region Environmental and Transportation Program (CREATE) was announced in 2003 meet these needs. CREATE was the first-of-its-kind partnership between the State of Illinois, City of Chicago, Metra and the nation's freight railroads and supported by the federal government. CREATE planned to invest over $1 billion in critically needed improvements to increase the efficiency of the region's rail infrastructure and the quality of life of Chicago-area residents. Federal funding began in 2007. The program goals were to reduce rail and motorist congestion, improve passenger rail service, enhance public safety, promote economic development, create jobs, and improve air quality, and reduce noise from idling or slow-moving trains. The work would also reduce train delays and congestion throughout the Chicago area by increasing the efficiency of rail traffic on five rail corridors.
The work was to involve 70 projects including:
Twenty-five new roadway overpasses or underpasses at locations where auto and pedestrian traffic currently crosses railroad tracks at grade level.

Thirty-seven freight rail projects including extensive upgrades of tracks, switches and signal systems.

Six new rail overpasses or underpasses to separate passenger and freight train tracks

Viaduct improvements.

Grade crossing safety enhancements.

Extensive upgrades of tracks, switches and signal systems.

Common operational picture (COP)—integration of information from dispatch systems of all major railroads in the region into a single display.
New overpasses, underpasses and other improvements were expected to save Chicago-area motorists a collective average of 3,000 h a day spent waiting for trains to pass at grade crossings. Travel times for Metra commuters were expected to improve and schedules to become more reliable.
Private and public contributions were pledged to fund the CREATE Program. The six railroad partners and Metra planned to provide $232 million, an amount equal to the potential economic benefits of the improvements to the rail industry. The remaining funds would come from federal, state, and local governments. As of October 2011, the railroads contributed $116 million, the State of Illinois committed $210 million, and the City of Chicago committed $4.2 million, and here was $330 million in federal funds. Another $286.5 million had been spent on projects before CREATE existed from various sources.
On September 10, 2007, the US Department of Transportation announced six interstate routes to be the first to participate in a new federal initiative to develop multistate corridors to help reduce congestion. The "Corridors of the Future" program was aimed at developing innovative national and regional approaches to reduce congestion and improve the efficiency of freight delivery. The selected corridors carried 22.7% of the nation's daily interstate travel. (Fig.
17.1
) The proposals were selected for their potential to use public and private resources to reduce traffic congestion within the corridors and across the country. The concepts included building new roads and adding lanes to existing roads, building truck-only lanes and bypasses, and integrating real time traffic technology like lane management that could match available capacity on roads to changing traffic demands.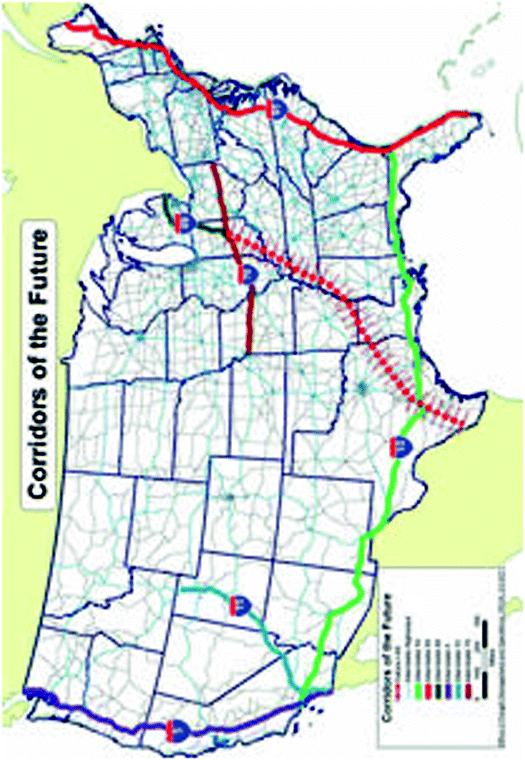 The six selected corridors were:
Interstate 5 (I-5)—Washington to California—The project addressed infrastructure improvements to I-5 from the US border with Canada, through the states of Washington, Oregon, and California, to the US border with Mexico. The proposal consisted of three state reports that describe individual State corridor development priorities and approaches to improving I-5. The proposal also included improvements to the Columbia River Bridge Crossing in the Portland, OR, and Vancouver, WA, metropolitan area. In addition to I-5, the regional freight/passenger rail corridor was included for designation within the Eugene, OR to Vancouver, B.C. portion of the corridor. Intelligent Transportation System (ITS) improvements and an Alternative Fuels Corridor were included.

Interstate 10 (I-10) Freight Corridor—California to Florida—The project resulted from work performed by the I-10 National Freight Corridor Study. The project included establishing a template ITS architecture as a first step in solving the congestion issues along the 2,600-mile corridor. This project focused on various bottlenecks along the I-10 corridor and included operational (ITS) and infrastructure improvements to create efficient coast-to-coast movement. Included among the proposed improvements were urban bypass around El Paso and Phoenix and truck/auto separation in the Los Angeles, Phoenix/Tucson, Houston, and Gulf Coast areas.

Interstate 15 (I-15)—California to Utah—This project focused on passenger and freight movement improvements to the I-15 corridor from San Diego, California at the junction of Interstate 5 through to Salt Lake City, Utah. In 2005, Union Pacific Railroad opened the country's third largest intermodal rail yard just outside Salt Lake City. The proposed projects included capacity and operational improvements on both the highway and the rail portions of the corridor, including an ITS truck parking initiative; interchange reconstruction and modification; and road and bridge preservation. The overarching goal was a managed corridor for safe travel, sustained traffic flow, and reliable travel times. It included two projects, the DesertXpress and the Commercial Corridor around Las Vegas, that had the potential to generate their own revenue streams as toll facilities and significantly limit the amount of public sector funds needed for these projects.

Interstate 69 (I-69)—Texas to Michigan—This 2,680-mile international and interstate trade corridor extended from Mexico to Canada. From the Mexican border to Indianapolis, Indiana, the proposed corridor would be built on a new location for about 1,660 miles. This project included freight and passenger movement through a portion of the country that is experiencing both demographic and freight movement growth. The current infrastructure from Texas to Michigan at the time handled a very large flow of goods and this corridor had the potential to shift cargo patterns to relieve existing and projected congestion along existing routes (e.g., I-40, I-65, and I-81).

Interstate 70 (I-70): Dedicated Truck Lanes—Missouri to Ohio—This project proposed dedicated and segregated truck lanes along I-70 from the Interstate 435 beltway on the eastern part of Kansas City, Missouri to the Ohio/West Virginia border near Bridgeport, Ohio/Wheeling, West Virginia. The concept proposed adding four dedicated truck lanes to the existing infrastructure, two in each direction, with at least one interchange per county providing access to the truck lanes and includes, conceptually, truck staging areas. These lanes presented the opportunity to pilot size and weight increases on a facility dedicated to trucks. The dedicated truck lanes were seen as a way to reduce congestion, improve safety, and offset the maintenance costs of general purpose lanes.

Interstate 95 (I-95)—This project would reconstruct and expand a 1,054 mile stretch of I-95 from Florida to Washington, D.C. that would accommodate future demand, safety, and reliability. The projects proposed by the 5 states offered moderate to significant congestion reduction and mobility improvements along I-95 from Washington, D.C. to Florida. The I-95 Corridor Coalition proposed ITS enhancements to optimize traffic operations along the corridor.
Car Sharing
Car sharing originated in Switzerland in the mid-1940s as a small operation by a housing cooperative. However, it was not until the 1990s that small car share systems were implemented in Switzerland and Germany. Experience with car sharing in the USA began with two experiments: Mobility Enterprise—a Purdue University research program (1983–1986) and the Short-Term Auto Rental (STAR) demonstration in San Francisco (1983–1985). Carshare Portland was recognized as the first official car sharing operation in the USA. Carshare Portland was launched in 1998 with one car and a few neighbors and the operation eventually grew to about 20 cars. In 2000, a Boston couple started Zipcar. Seattle's Flexcar was also formed in 2000 and eventually bought Carshare Portland and in late 2007 Flexcar and Zipcar agreed to merge.
In a car sharing program, the company owned and insured all its cars, which were parked at convenient locations around town. The traveler could pick up a car, with some car share programs; drop it off at any car share location when they were finished. (Other car share programs did not allow members to take one-way trips with the vehicles, because the next member who had reserved that vehicle was expecting it to be returned to its starting location.) The traveler paid only for the hours they had the car. Gas, oil and car maintenance were paid by the company; members were issued a company credit card for these costs. If a car was already booked, members either had to take an alternate car, or wait until the car they usually drove was available. However, the availability of a vehicle, may not match a traveler's time requirements. Car-sharing services could get pricey for travelers who drove long distances or took the car on an overnight trip. But for travelers who just needed to go to the grocery store, a doctor's appointment or visit a friend out of town, car sharing could be cheaper than renting a car (Car Sharing 2012).
There were several benefits attributed to car sharing programs. First was convenience—a car was available when needed. Some programs had various models to suit varying requirements. Second, was practicality—they reduced number of cars in the city and reduced car usage of individuals by as much as 50%. Third was low cost—travelers only paid for the hours the cars are used. This cost represented a fraction of the cost of owning a car and was cheaper than owning a car if needed for fewer than 7,500 miles (12,000 km)/year. Fourth was trouble free—there was no maintenance; no servicing; no parking hassles; no cleaning. Fifth, in some instances users reduced their car ownerships—using a shared car rather than an owned car. Finally, and perhaps most important was environmentally friendly—these programs reduced air pollution emissions and energy use by reducing the amount of driving by travelers (Car Sharing 2012).
It's estimated that 600 cities around the world support successful car sharing operations. In Germany alone, car sharing operates in over 150 cities and some European operations, like Mobility CarSharing in Switzerland, have more than 30,000 members. About 30 independent car share companies operate in the USA.
National Surface Transportation Policy and Revenue Study Commission
The National Surface Transportation Policy and Revenue Study Commission was created by Congress 2005 to examine the condition and operation of the surface transportation system and develop recommendations to ensure that the surface transportation system serves the needs of the nation now and in the future. After an intensive fact-finding program that included hearings in ten cities across the nation, the Commission released its report in 2008.
The Commissioners unanimously agree that an efficient surface transportation system will be vital to the future economic growth, international competitiveness, and social well-being of the nation. They also agree that major overhauls of current federal surface transportation programs will be essential to achieve such a system. They did not agree, however, on all of the recommendations to reform and finance our surface transportation programs.
There were a number of key recommendations in Transportation for Tomorrow. The Commission recommended that significantly increasing investment in surface transportation was necessary, including investing at least $225 billion annually from all sources (federal, state, local, and private) for the next 50 years to upgrade to an advanced surface transportation system capable of sustaining strong economic growth; Further that there was a need to accelerate the time between conception and delivery of major transportation projects to reduce costs while still addressing environmental concerns. Simply reducing the time between conception of projects and delivery could save billions of dollars as well as bringing new facilities online more rapidly.
The Commission recommended retaining a strong federal role in transportation, while depoliticizing investment decisions. Money must be spent through outcome based, performance driven programs supported by cost/benefit evaluations rather than political "earmarking." Regarding the Federal program structure the Commission recommended replacing over 100 existing transportation programs with ten programs focused on the national interest. This structure will target infrastructure facilities, crippling congestion, unacceptable safety consequences, missing intercity passenger rail options, underutilized transit options, environment linkages and the synergy between transportation and energy policy.
The Commission recommended creating a new National Surface Transportation Commission (NASTRAC) to perform two principal planning and financial functions. The NASTRAC would act as overseer of a stakeholder-rich planning process whose goal would be to develop national strategic plans for each of the program areas. The NASTRAC would establish the cost to finance the plan and recommend a federal fuel tax or equivalent Federal mechanism to fund the federal share, subject to congressional veto.
To fund the necessary investment, the Commission recommended new revenue strategies, including increasing the federal gas tax between 25 and 40 cents (5–8 cents per gallon, per year), with the rate increase indexed and phased in over time. The fuel tax would be the primary recommended user fee in the near term since it would continue to be a viable revenue source for surface transportation for some time to come. The most promising alternative user fee revenue measure would be a vehicle miles traveled fee, provided that substantial privacy and collection cost issues could be addressed. Other user-based fees also should help address the investment shortfall, such as tolling, the deployment of peak-hour "congestion pricing" on federal-aid highways in major metropolitan areas, a freight fee for freight projects, and ticket taxes for passenger rail improvements. Tax policy also could provide incentives to expand intermodal networks. Governments on all levels should encourage public–private partnerships as a means of attracting additional private investment to the surface transportation system, provided that conditions are included to protect the public interest and the movement of interstate commerce.
The report called for the replacement of over 100 current federal surface programs with ten comprehensive programs that were outcome (rather than modally) based. State and local performance standards would form the basis for state and metropolitan plans. In combination, these would comprise a national strategic plan and the basis for distribution of federal funding to implement these plans. The ten new programs were the following:
1.

Rebuilding America: A National Asset Management Program.

 

2.

Freight Transportation: A Program to Enhance US Global Competitiveness.

 

3.

Congestion Relief: A Program for Improved Metropolitan Mobility.

 

4.

Saving Lives: A National Safe Mobility Program.

 

5.

Connecting America: A National Access Program for Smaller Cities and Rural Areas.

 

6.

Intercity Passenger Rail: A Program to Serve High-Growth Corridors by Rail.

 

7.

Environmental Stewardship: Transportation Investment Program to Support a Healthy Environment.

 

8.

Energy Security: A Program to Accelerate the Development of Environmentally-Friendly Replacement Fuels.

 

9.

Federal Lands: A Program for Providing Public Access.

 

10.

Research, Development, and Technology: A Coherent Transportation Research Program for the Nation.

 
California's Sustainable Communities Planning Act
In 2008, California passed the Sustainable Communities Planning Act (SB 375) as the nation's first law to control GHG emissions by curbing sprawl. By passing SB 375, California became the first state to legislatively link predefined GHG emission reduction goals to physical growth patterns in metropolitan regions. In the process, SB 375 also established for California a variant of state-administered growth management similar to the systems adopted in recent decades in states such as Maryland, Florida, New Jersey, Oregon, and Washington to coordinate growth policy (Altmaier et al. 2009).
The Act was designed to help California fight global warming by addressing one of the largest and most rapidly growing sources of GHG emissions—the vehicle miles an average California family travels. Poor land use and transportation decisions left an increasing number of Californians stuck with long car commutes to meet basic needs. By integrating GHG reduction goals into the existing regional transportation planning process, SB 375 aimed reduce vehicle miles traveled, develop sustainable growth patterns and transportation infrastructure decisions that redirected new growth to places where people already lived and work.
The law required the California Air Resources Board to set regional "targets" (goals) for reducing GHG emissions through reduced vehicle miles traveled. Regions were defined as areas with an MPO. There were 18 MPOs in California at that time. Over 90% of Californians resided within the jurisdiction of one of the four largest MPOs (Sacramento, San Francisco Bay Area, Southern California, and San Diego).
The law required that each MPO had to develop a "Sustainable Communities Strategy" (SCS) that coordinated land use, transportation, and housing decisions to achieve the Air Board's target when it updated the region's long-range transportation plan, which generally occurred every 4 years. An SCS was an enhanced land use projection for the region, intended to set forth a forecasted development pattern that would reduce GHG emissions from automobiles and light trucks, if there was a feasible way to do so. The SCS had to identify the expected location of land uses and residential densities, and identify areas in the region sufficient to house all the population, including all socioeconomic segments, during the planning period. The SCS also had to be consistent with the region's long-range transportation investment plan (RTP). Under federal law, the RTP must be "financially constrained," that is, based on reasonably expected funding sources and levels. Also, the RTP had to reflect "current planning assumptions" for land uses, which meant an SCS, could not veer very far from the current plans and policies of local government. Nothing in SB 375 required local governments, which controlled most land use decisions, to alter their local plans and policies to conform to an SCS (Altmaier et. al. 2009).
If a region is unable to meet its prescribed emissions reduction target through an SCS, then the region had to also complete an "Alternative Planning Strategy" (APS). Unlike an SCS, an APS was not constrained to match "current planning assumptions." An APS could function like a hypothetical development plan, providing an estimate of the resources and policy changes that would be needed for the region to actually achieve its GHG reduction target.
To achieve better planning coordination in developing SCSs or APSs, SB 375 aligned three longstanding planning processes in the state more closely:
1)

The regional transportation plan (RTP) process, controlled by MPOs and overseen by the state and federal governments.

 

2)

The Regional Housing Needs Assessment (RHNA), a state-mandated process for allocating to local governments their "fair share" requirements for accommodating adequate housing, at all income levels, for each region's projected population growth.

 

3)

The environmental review process under the California Environmental Quality Act (CEQA), which required that development permitting agencies conduct environmental review and mitigation, where feasible, of negative impacts of proposed development projects.

 
This revised planning process was expected to shift millions of transportation dollars each year, redirecting funds away from projects that supported unsustainable and costly sprawl toward projects that encouraged infill development in order to reduce lengthy commutes. SB 375 also was expected to address the lack of affordable homes near jobs and modified California's environmental review process for certain projects that are consistent with the new regional plan to help incentivize development in locations that help the region meet its GHG emission reduction target (Altmaier et al. 2009).
Potential Impacts of Climate Change on US Transportation
There was growing consensus that human activity in the form of GHG emissions is warming the planet in ways that will have major and unsettling impacts on natural resources, energy use, ecosystems, economic activity, and potentially quality of life. The earth's climate had always been in a state of flux, but what were of concern at the time were the rapid rate of change and the unabated contribution of human activity to its occurrence. Many studies had already examined the potential impacts of climate change on broad sectors of the economy, such as agriculture and forestry, but few had studied the impacts on transportation. To address the concern, TRB sponsored a study of the consequences of climate change on transportation infrastructure and operations of US transportation (Transportation Research Board 2008).
The final report concluded that climate change would affect every mode of transportation and every region in the US and the challenges to infrastructure providers would be new and often unfamiliar. It stated that climate change would affect transportation primarily through increases in several types of weather and climate extremes, such as very hot days and heat waves; warming Arctic temperatures; rising sea levels coupled with storm surges and land subsidence; intense precipitation events; and intense hurricanes. The impacts would vary by mode of transportation and by region of the country but would be widespread and costly in human and economic terms and would require significant changes in the way that transportation professionals do business.
The historical regional climate patterns of the past several decades, commonly used by transportation planners to guide operations and investments, may no longer be a reliable guide. In particular, the future climate would include new classes of weather and would reach extremes in terms of magnitude and frequency—for example, with record rainfalls and record heat waves—as human-induced environmental changes are superimposed on the natural variability of the climate. The decisions that transportation professionals currently make —particularly for the redesign and retrofitting of transportation infrastructure or for the location and design of new infrastructure—would affect how well the system would adapt to climate change.
The flooding of coastal roads, railways, transit systems, and runways would be a likely result of a projected global rise in sea level coupled with storm surges and exacerbated by land subsidence in some locations. This flooding represented the greatest potential impact of climate change on North America's transportation system. The vulnerability of transportation infrastructure to climate change, however, would extend beyond coastal areas. Other impacts could affect facilities away from the coasts such as ports, airports, and private railroads and pipelines.
Decisions are made daily on short- and long-term investment decisions that had implications for how the transportation system would respond to climate change. Transportation decision makers, therefore, should be preparing now for the projected climate changes. State and local governments and private infrastructure providers should incorporate adjustments for climate change into long-term capital improvement plans, facility designs, maintenance practices, operations, and emergency response plans.
One of the most effective strategies for reducing the risks of climate change is to avoid placing people and infrastructure in vulnerable locations.
Transportation planners are not currently required to consider climate change and its effects on infrastructure investments. Land use decisions are made primarily by local governments, which have too limited a perspective to account for the broadly shared risks of climate change. Integration between transportation and land use planning is uncommon. Federal planning regulations should require that public-sector; long-range transportation plans include the consideration of climate change. In addition, regulations should eliminate any perception that such plans only need to address the next 20–30 years.
The report recommended a decision framework for addressing the impacts of climate change on US transportation infrastructure which included the following steps:
1.

Assess how climate changes would likely affect various regions of the country and modes of transportation.

 

2.

Inventory transportation infrastructure essential to maintaining network performance in light of climate change projections to determine whether, when, and where their impacts could be consequential.

 

3.

Analyze adaptation options to assess the trade-offs between making the infrastructure more robust and the costs involved. Consider monitoring as an option.

 

4.

Determine investment priorities, taking into consideration criticality of the infrastructure components as well as opportunities for multiple benefits.

 

5.

Develop and implement a program of adaptation strategies for the near and long terms.

 

6.

Periodically assess the effectiveness of adaptation strategies, and repeat Steps 1 through 5.

 
The costs of redesigning and retrofitting transportation infrastructure to adapt to the potential impacts of climate change are likely to be significant. More strategic, risk-based approaches to investment decisions were needed. Transportation planners and engineers should incorporate more probabilistic investment analyses and design approaches that trade off the costs of making the infrastructure more robust against the economic costs of failure. Moreover, they should communicate these trade-offs to the policy makers who are responsible for investment decisions and for the authorization of funds.
Environmental factors are integral to transportation infrastructure design. Engineers have not addressed the sufficiency of current design standards, however, for accommodating climate change. Climate change projections, for example, indicate that today's 100-year precipitation event is likely to occur every 50 years or perhaps even every 20 years by the end of this century. Reevaluating, developing, and regularly updating design standards for transportation infrastructure to withstand the impacts of climate change will require a broad-based research and testing program and a substantial implementation effort.
According to the report, focusing on the problem now should help avoid future costly infrastructure investments and disruptions to transportation operations. The most important step transportation professionals to acknowledge that the time had come to confront the challenges posed by climate change and to incorporate the most current scientific knowledge into the planning, design, construction, operation, and maintenance of transportation systems.
Rail Passenger Investment and Improvement Act of 2008
The Passenger Rail Investment and Improvement Act of 2008 (PRIIA) reauthorized the National Railroad Passenger Corporation (Amtrak), and strengthened the US passenger rail network by tasking Amtrak, USDOT, States, and other stakeholders in improving service, operations, and facilities. PRIIA focused on intercity passenger rail, including Amtrak's long-distance routes and the Northeast Corridor (NEC), state-sponsored corridors throughout the Nation, and the development of high-speed rail corridors (US DOT 2009b).
PRIIA authorized funds to the US DOT for fiscal years 2009–2013 to award grants to Amtrak to cover operating costs, capital investments, including in part, efforts to bring the NEC to a state-of-good-repair, and repayment of Amtrak's long-term debt and capital leases. Amtrak had to implement a modern financial accounting and reporting system. Additionally, Amtrak had to submit a 5-year financial plan and an annual budget to the US DOT. The 5-year financial plan had to address 16 categories of information, including projected revenues and expenditures, projected ridership, estimates of long-term and short-term debt, labor productivity statistics, and anticipated security needs.
PRIIA required States to establish or designate a State rail transportation authority that would develop Statewide rail plans to set policy involving freight and passenger rail transportation within their boundaries, establish priorities and implementation strategies to enhance rail service in the public interest, and serve as the basis for federal and state rail investments within the State. State rail plans had to address a range of issues, including an inventory of the existing rail transportation system, rail services and facilities within the State. They had to include an explanation of the State's passenger rail service objectives, an analysis of rail's transportation, economic, and environmental impacts in the State, and a long-range investment program for current and future freight and passenger infrastructure in the State. The plans had to be coordinated with other State transportation planning programs and clarify long-term service and investment needs and requirements. US DOT had to establish minimum standards for the preparation and periodic revision of State rail plans (US DOT 2009b).
PRIIA authorized three new federal intercity rail capital assistance programs:
Intercity Passenger Rail Service Corridor Capital Assistance Program: This program authorized US DOT to provide grants for capital investments for intercity rail passenger service. Eligible applicants included States (including the District of Columbia), groups of States, Interstate Compacts, and public agencies with responsibility for providing intercity passenger rail service established by one or more States. Funds could be used for grants to assist in financing the capital costs of facilities, infrastructure, and equipment necessary to provide or improve intercity passenger rail transportation. PRIIA described project selection criteria and required grant conditions. This program was modeled on the capital assistance to states, intercity rail passenger rail service program the FRA implemented in fiscal year 2008 and 2009.

High-Speed Rail Corridor Development : PRIIA authorized US DOT to establish and implement a high-speed rail corridor development program. Eligible applicants included a State (including the District of Columbia), a group of States, an Interstate Compact, a public agency established by one or more States with responsibility for high-speed rail service or Amtrak. Eligible corridors included the ten high-speed rail corridors previously designated by the Secretary of Transportation. Grants could be used for capital projects which were broadly defined to include typical activities in support of acquiring, constructing, or improving rail structures and equipment.

High-speed rail was defined as intercity rail passenger service that was reasonably expected to achieve operating speeds of at least 110 miles per hour. US DOT was authorized to specify grant application requirements and PRIIA identified a number of grant selection evaluation criteria, including that the project be part of a State rail plan, that the applicant have the ability to carry out the project, and that the project result in significant improvements to intercity rail passenger service.

Congestion Relief: PRIIA authorized US DOT to make grants to States or to Amtrak in cooperation with States for financing the capital costs of facilities, infrastructure, and equipment for high priority rail corridor projects necessary to reduce congestion or facilitate ridership growth in intercity rail passenger transportation. Eligible projects would be those identified to reduce congestion or facilitate ridership growth in heavily traveled rail corridors, to improve on time performance and reliability, and those designated by US DOT as meeting the purpose of the program and being sufficiently advanced so as to be ready for implementation.

PRIIA also provided opportunities for private sector interests to operate and improve intercity passenger rail services (US DOT 2009b):

Additional High-Speed Rail Projects: This program was designed to establish a public–private partnership for high-speed rail development. FRA published a Request for Expressions of Interest in the Federal Register for the financing, design, construction, operation, and maintenance of a high-speed intercity passenger rail system operating within a 1 of 11 specified corridors. Credible submissions that met the content requirements and would result in a positive impact on the Nation's transportation system were to be evaluated through the formation of separate dedicated review commissions and then reports to Congress.

Alternative Passenger Rail Service Pilot Program: FRA was to develop a pilot program that would allow rail carriers that own infrastructure over which Amtrak operates intercity passenger service to petition to be considered as a passenger rail service provider over the route in lieu of Amtrak for a period not to exceed 5 years.

Special Passenger Trains: Amtrak was permitted to increase the operation of special trains funded by, or in partnership with private sector operators through the use of competitive contracting to minimize the need for Federal subsidies.
Title VI of PRIIA authorized funds for grants to the Washington Metropolitan Area Transit Authority to finance in part the capital and preventive maintenance projects included in the Capital Improvement Program (US DOT 2009b).
Many passenger rail projects moves forward as the result of this act and the American Recovery and Reinvestment Act. As of January 2012, the FRA approved $9.6 billion for 149 projects in 32 states and the District of Columbia. Prior to receiving the federal funds states and private railroads had to negotiate agreements that included quantifiable measures such as reliable trip times and frequency of service that had be met by all parties once work was completed. Because nearly all passenger service outside of the northeast corridor runs over rails owned by private railroads, it was critical that the agreements protected this private investment and ensured that freight continue to move in a timely fashion (AASHTO 2012).
American Recovery and Reinvestment Act of 2009
The American Recovery and Reinvestment Act of 2009 was passed by Congress and signed into law by President Obama on February 17, 2009. A direct response to the economic crisis, the Recovery Act had three immediate goals: create new jobs and save existing ones; spur economic activity and invest in long-term growth; and, foster unprecedented levels of accountability and transparency in government spending. The Recovery Act intended to achieve those goals by providing $787 billion in: tax cuts and benefits for millions of working families and businesses; funding for entitlement programs, such as unemployment benefits; and, funding for federal contracts, grants and loans. In 2011, the original expenditure estimate of $787 billion was increased to $840 billion to be in line with the President's 2012 budget and with scoring changes made by the Congressional Budget Office since the enactment of the Recovery Act (The Recovery Act, 2012).
Twenty-eight different agencies were allocated a portion of the $787 billion in Recovery funds. Each agency developed specific plans for how it would spend its Recovery Act funds. The agencies then awarded grants and contracts to state governments or, directly to contractors, or other organizations. To achieve the transparency goal, the Act required recipients of Recovery funds to report quarterly on how they are using the money.
Construction and repair of roads and bridges as well as scientific research were funded. There was no end date written into the Recovery Act because, while many of Recovery Act projects are focused on jumpstarting the economy, others are expected to contribute to economic growth for many years. The Recovery Act funds supported many needed transportation projects often in conjunction with funds from other programs. By June 30, 2011, $26 billion in projects were under contract or completed and 8,600 highway and transit projects had been completed. By December, 2011, $9.2 billion in passenger rail projects had been approved (AASHTO 2012)
Effects of Compact Development on Motorized Travel
Over the years, there has been a wide ranging debate regarding the effect of compact land use development on reduced motor vehicle travel, and consequently on reduced energy usage and emissions that contributed to global warming. To address this issues, Congress requested a study to assesses whether petroleum use—and by extension, emissions of the primary GHG, carbon dioxide (CO2)—could be reduced by more compact, mixed-use development—that is, development at higher densities with a variety of land uses (Transportation Research Board 2009).
The committee that produced the report estimated that the reduction in vehicle miles traveled (VMT), energy use, and CO2 emissions resulting from more compact, mixed-use development would range from less than 1 to 11% by 2050. All of the committee members did not agree, however, that the changes in development patterns and public policies necessary to achieve the high end of the estimates were plausible.
The committee found both logic and empirical evidence suggesting that development at higher population and employment densities resulted in trip origins and destinations that were closer to each other, on average; therefore average trip lengths were shorter. The effects of compact, mixed-use development on VMT could be enhanced with other policy measures that make the alternatives to driving more convenient and affordable.
To the extent that more compact development reduced VMT, it would directly reduce fuel use and CO2 emissions. The VMT savings would be slow to develop, however, because the existing building stock was durable, limiting opportunities to build more compactly; new housing might be built to accommodate a growing population and to replace the small percentage of units that are scrapped each year. To the extent that higher energy prices or other public policies and regulations increased vehicle fuel efficiency or the energy efficiency of residential heating and cooling, however, the absolute savings in energy use and CO2 emissions from developing more compactly would be reduced, all else being equal.
Significant increases in more compact, mixed-use development would result in only modest short-term reductions in energy consumption and CO2 emissions, but these reductions would deepen over time. Committee members disagreed on the rate that high density development could be achieved in the future depending on the extent of and severity of public policy changed from policies supporting the existing development patterns.
The study concluded that promoting more compact, mixed-use development on a large scale would require overcoming many obstacles. Local zoning regulations—particularly suburban zoning that restricted density levels and the mixing of land uses—represented one of the most significant barriers to more compact development. Highly regulated land use markets also limited the supply of compact developments, despite evidence of increased interest in such communities.
The committee cautioned that changes in development patterns entailed other benefits and costs that had not been quantified in the study. It recommended that more carefully designed studies examining the effects of land use patterns and the form and location of more compact, mixed-use development on VMT, energy use, and CO2 emissions were needed to implement compact development more effectively.
It further recommended that policies that supported more compact, mixed-use development and that reinforced its ability to reduce VMT, energy use, and CO2 emissions should be encouraged. It recognized that climate change was a problem more easily dealt with sooner than later, and more energy efficient land use patterns may become part of the strategy if the nation sets ambitious goals for energy efficiency and the reduction of GHG emissions. Because changes in land use may take decades to realize, and development patterns take years to reverse, implementation of these policies should start soon. Again the committee cautioned that given the incomplete understanding of the benefits and costs of different policies for compact, mixed-use development, however, these policies should be implemented carefully and the effects monitored.
Partnership for Sustainable Communities
In June 2009, DOT, HUD, and EPA, announced the creation of an interagency "Partnership for Sustainable Communities" to help promote affordable housing, more transportation options, and lower transportation costs while protecting the environment in the nation's communities. The Partnership was designed to advance sustainable development and economic growth (US DOT 2009a).
There were six guiding "livability principles" to be used to coordinate federal transportation, environmental protection, and housing investments at their respective agencies:
1.

Provide more transportation choices

 

2.

Promote equitable, affordable housing

 

3.

Enhance economic competitiveness

 

4.

Support existing communities

 

5.

Coordinate policies and leverage investment

 

6.

Value communities and neighborhoods

 
The three agencies were determined to work together to ensure that these housing and transportation goals were met while simultaneously protecting the environment, promoting equitable development, and helping to address climate change. The agencies agreed that communities must offer a range of transportation options to their residents including walking, biking, and mass transit, in addition to private vehicle ownership. Reducing vehicle miles traveled was critical to help improve air quality.
The partnership was intended to enhance integrated housing, transportation, water infrastructure, and land use planning and investment; to help communities set a vision for sustainable growth and apply federal transportation, water infrastructure, housing, and other investments in an integrated approach that reduces the nation's dependence on foreign oil, reduces GHG emissions, protects air and water, and improves the quality of life and thereby made more effective use of federal housing and transportation dollars, redefines housing affordability and make it transparent; to redevelop underutilized sites; to develop livability measures and tools; to align HUD, DOT, and EPA programs; and to undertake joint research, data collection, and outreach.
DOT, HUD, and EPA jointly administered $150 million to develop urban, suburban, and rural communities through competitive grants. In addition, these agencies focused funds in many of their other grant programs to achieve sustainable results in line with the livability principle
Within a year after the partnership was formed, the three agencies had worked together to promote sustainable communities through their policies and grant programs. They jointly evaluated applications for the TIGER, Brownfield's Area-Wide Planning Pilot, Sustainable Communities Regional Planning, and Community Challenge Planning grants, among others. They collaborated on regulatory and policy changes such as HUD's Brownfield's policy change, DOT's bicycle–pedestrian funding policy changes, and recommendations for federal facility sitting (US EPA 2010 c).
By the second year, the agencies had dedicated more than $2.5 billion in assistance to more than 200 communities in 48 states to help meet housing and transportation goals while simultaneously protecting the environment, promoting equitable development, and addressing the challenges of climate change. Of that funding, $238 million was focused on America's rural communities (US EPA 2011).
Executive Order 13514 Federal Leadership in Environmental, Energy, and Economic Performance
On October 5, 2009, President Obama signed Executive Order 13514, "Federal Leadership in Environmental, Energy, and Economic Performance," that set sustainability goals for federal agencies and focused on making improvements in their environmental, energy and economic performance. The goal of EO 13514 was "to establish an integrated strategy towards sustainability in the federal government and to make reduction of GHG a priority for federal agencies." The Executive Order required federal agencies to submit a 2020 GHG pollution reduction target within 90 days, and to increase energy efficiency, reduce fleet petroleum consumption, conserve water, reduce waste, support sustainable communities, and leverage federal purchasing power to promote environmentally-responsible products and technologies (Obama 2009).
EO 135154 built upon and expanded the energy reduction and environmental requirements in Executive Order 13423, "Strengthening Federal Environmental, Energy, and Transportation Management," which was signed by President Bush on January 24, 2007, to strengthen key goals for the federal government. It set more challenging goals than the Energy Policy Act of 2005 by requiring federal agencies to reduce their energy intensity of 3% a year or 30% by the end of fiscal year 2015 (Bush 2007).
The federal government occupied nearly 500,000 buildings, operates more than 600,000 vehicles, employed more than 1.8 million civilians, and purchased more than $500 billion per year in goods and services. The Executive Order required the reductions of GHG emissions to be a priority of the federal government, and required agencies to develop sustainability plans focused on cost-effective projects and programs.
The Executive Order required agencies to measure, manage, and reduce GHG emissions toward agency-defined targets. It described a process by which agency goals would be set and reported to the President by the Chair of CEQ. It required each agency to designate a Senior Sustainability Officer. The Executive Order also required federal agencies to meet a number of energy, water, and waste reduction targets, including:
30% reduction in vehicle fleet petroleum use by 2020.

26% improvement in water efficiency by 2020.

50% recycling and waste diversion by 2015.

95% of all applicable contracts will meet sustainability requirements.

Implementation of the 2030 net-zero-energy building requirement.

Implementation of the storm water provisions of the Energy Independence and Security Act of 2007, section 438.

Development of guidance for sustainable federal building locations in alignment with the Livability Principles put forward by the HUD, DOT, and EPA.
On April 19, 2011, 24 federal agencies and departments released, for the first time, the OMB Sustainability and Energy Scorecards. These scorecards enabled agencies to target and track the best opportunities to lead by example in clean energy; and to meet a range of energy, water, pollution, and waste reduction targets.
In January 2010, the President Obama announced a federal government-wide GHG emissions reduction targets for 2020 from 2008 levels of 28% of direct emissions, such as those from fuels and building energy use, and of 13% of indirect emissions, such as those from employee commuting and business travel.
The EO also required federal agencies to advance regional and local integrated planning by participating in regional transportation planning and recognizing existing community transportation infrastructure, and by ensuring that planning for new federal facilities or new leases included consideration of sites that are pedestrian friendly, near existing employment centers, and accessible to public transit, and emphasizes existing central cities and, in rural communities, existing or planned town centers.
Copyright information
© Springer Science+Business Media New York 2013