Abstract
Cholesterol can be formed from acetate via a large number of enzymatic steps (Fig. 1). Some of the more important intermediates are acetyl-CoA, 3-hydroxy-3-methylglutaryl coenzyme A (HMG-CoA), mevalonate and squalene. The enzyme, which catalyzes the rate limiting reaction of this sequence is 3-hydroxy-3-methylglutaryl coenzyme A reductase (E.C. 1.1.1.34; HMG-CoA reductase). It enables the reduction of the thioester bonding in HMG-CoA to the primary alcohol function of mevalonate by using two molecules of NADPH as reductant (Fig. 2). This enzyme has first been discovered in yeast (1). As it catalyzes the slowest reaction of the whole sequence from acetyl coenzyme A to cholesterol, it is the object of intensive research in those groups, who are interested in the mechanism of regulation of hepatic cholesterogenesis.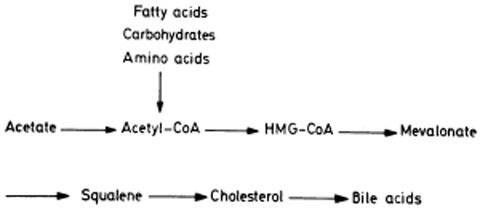 Keywords
Bile Acid 
Thioester Bonding 
Allosteric Enzyme 
HYDROXYMETHYLGLUTARYL Coenzyme 
Tridecanoic Acid 
These keywords were added by machine and not by the authors. This process is experimental and the keywords may be updated as the learning algorithm improves.
Copyright information
© Springer Science+Business Media New York 1971