Abstract
There are a number of reasons why the development of novel anthelmintics is very necessary. In domestic animals, parasites cause serious loss of production and are a welfare concern. The control of these parasites requires changes in management practices to reduce the spread of infection and the use of therapeutic agents to treat affected animals. The development of vaccines against parasites is desirable but their development so far has been very limited. One notable exception is the vaccination of calves against infection by Dictyocaulus viviparous (lungworm) which has proved to be very effective.2 In domestic animals, the total market for anti-parasitic agents (both ecto- and endo-parasites) is in excess of a billion US dollars. In humans there are serious problems of morbidity and mortality associated with parasite infections. 1.6 billion People throughout the world are infected with ascariasis (Fig. 1A) and/or hookworm. Approximately one-third of the world's population is suffering from the effects of intestinal nematode parasites, causing low growth-rates in infants, ill-thrift, diarrhea and in 2% of cases, loss of life. Despite the huge number of affected individuals, the market for anti-parasitic drugs for humans is not big enough to foster the development of anthelmintics because most infestations that occur are in undeveloped countries that lack the ability to pay for the development of these drugs. The major economic motivator then, is for the development of animal anthelmintics.
In both domestic animals and now in humans, there is now a level of resistance to the available anthelmintic compounds.2 The resistance is either: constitutive, where a given species of parasite has never been sensitive to the compound; or acquired, where the resistance has developed through Darwinian selection fostered by the continued exposure to the anti-parasitic drugs. The continued use of all anthelmintics has and will, continue to increase the level of resistance. Cure rates are now often less than 100% and resistance of parasites to agents acting on the neuromuscular systems is present in a wide range of parasites of animals and humans hosts.3,4
In the face of this resistance the development of novel and effective agents is an urgent and imperative need. New drugs which act on the neuromuscular system have an advantage for medication for animals and humans because they have a rapid therapeutic effect within 3 hours of administration. The effects on the neuromuscular system include: spastic paralysis with drugs like levamisole and pyrantel; flaccid paralysis as with piperazine; or disruption of other vital muscular activity as with ivermectin. Figure 1 B and C, illustrates an example of a spastic effect of levamisole on infectious L3 larvae of
Ostertagia ostertagiae
, a parasite of pigs. The effect was produced within minutes of the in vitro application of levamisole.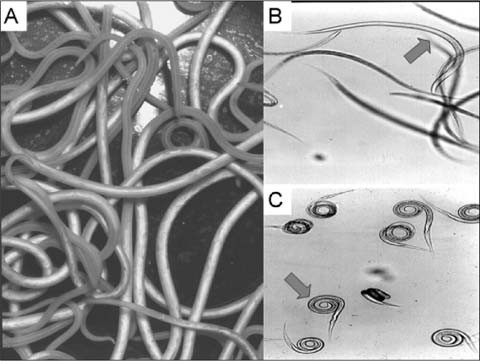 Keywords
Nematode Parasite 
Dung Beetle 
Neuromuscular System 
Macrocyclic Lactone 
Anthelmintic Resistance 
These keywords were added by machine and not by the authors. This process is experimental and the keywords may be updated as the learning algorithm improves.
Copyright information
© Landes Bioscience and Springer Science+Business Media 2010