Autorotation and Autosizing
Abstract
The iPhone, iPad, and other iOS devices are all amazing pieces of engineering. Apple engineers found all kinds of ways to squeeze maximum functionality into a pretty darn small package. One example is the mechanism that allows applications to be used in either portrait (tall and skinny) or landscape (short and wide) mode, and to change that orientation at runtime if the phone is rotated. A prime example of this behavior, which is called
autorotation
, can be seen in iOS's web browser, Mobile Safari (see Figure 5-1). In this chapter, we'll cover autorotation in detail. We'll start with an overview of the ins and outs of autorotation.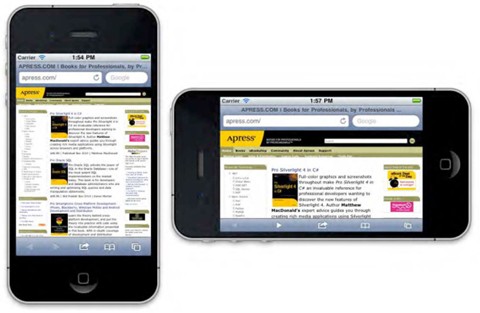 Keywords
Main Window 
Head File 
Landscape Orientation 
Code Sense 
Landscape Mode 
These keywords were added by machine and not by the authors. This process is experimental and the keywords may be updated as the learning algorithm improves.
Copyright information
© Dave Mark, Jack Nutting and Jeff LaMarche 2011