Biochemical Studies on Ochratoxin A
Abstract
Ochratoxin A is one of three chemically related metabolites isolated from Aspergillus ochraceus Wilh. 1 It has been structurally characterised as 7-carboxyl-5-chloro-8-hydroxy-3,4-dihidro-methylisocoumarin linked over its 7-carboxyl group to L-β-phenylalanine.2 The LD50 in rats dosed per os is 20 mg/kg and the toxin causes enteritis, renal necrosis and an increase in the quantity of glycogen in rat liver.3 The route and time course of the metabolism of ochratoxin A was investigated by Nel and Purchase4 in view of the fact that the increase in glycogen only became evident 4 to 5 days after dosing. They concluded that ochratoxin A is hydrolysed in vivo to the isocoumarin moiety (ochratoxin α) most probably by proteolytic enzymes.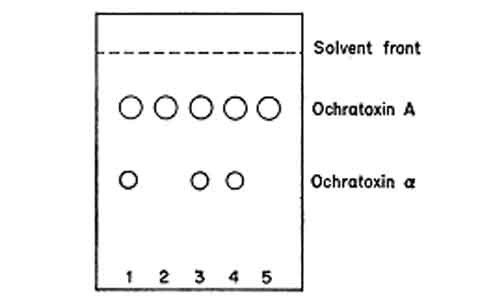 Keywords
Proteolytic Enzyme 
Aromatic Amino Acid 
Glycogen Storage Disease 
Peptide Linkage 
Phenylpropionic Acid 
These keywords were added by machine and not by the authors. This process is experimental and the keywords may be updated as the learning algorithm improves.
Copyright information
© South African Medical Research Council 1971