What Drives Bank Lending in Domestic and Foreign Currency Loans in a Small Open Transition Economy with Fixed Exchange Rate? The Case of Macedonia
Abstract
The main research aims of this paper are to empirically investigate the existence of the bank lending channel and its determinants in Macedonia. We estimate two different loan supply functions by disaggregating the loans by currency, in denars and in foreign currency (mainly in euros). The rationale for examining the two loan supply functions separately is the relatively high share of foreign currency loans in the total loans in the Macedonian banking sector (see Figure 9.1),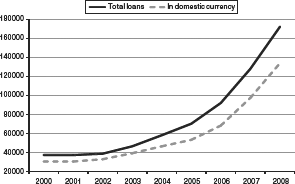 which is typical of many transition economies, and the belief that such loans may respond to variables different from those affecting loans in domestic currency (Kohler
et al.
, 2005).
Keywords
Interest Rate 
Monetary Policy 
Bank Lending 
Domestic Interest Rate 
Foreign Interest Rate 
These keywords were added by machine and not by the authors. This process is experimental and the keywords may be updated as the learning algorithm improves.