Bronchial Asthma
Allergens induce a reaction characterized by hyperplasia of the columnar ciliated and mucinous cells lining the bronchial tree and plugging of small bronchi by inspissated mucin. Cytologic material shows sheets or tightly cohesive three-dimensional fragments of hypersecretory respiratory epithelium with goblet cells and ciliated columnar cells, referred to as "Creola bodies." Abundant mucus is present in the background, and casts of small bronchi and bronchioles, in the form of Curschmann spirals, are often identified. Increased numbers of eosinophils is a reflection of the allergic nature of the disease. This is associated with the presence of Charcot–Leyden crystals which result from crystallization of the protein in the cytoplasm of eosinophils (Fig.
5.1
).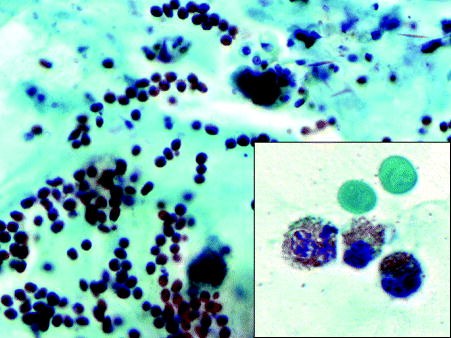 Keywords
Idiopathic Pulmonary Fibrosis 
Nuclear Atypia 
Pulmonary Infarct 
Altered Immune Reaction 
Pulmonary Alveolar Proteinosis 
These keywords were added by machine and not by the authors. This process is experimental and the keywords may be updated as the learning algorithm improves.
Copyright information
© Springer Science+Business Media, LLC 2009