Epithelial Elements
Tracheal and Bronchial Respiratory Epithelium
Normal bronchial respiratory epithelium usually appears as monolayer tissue fragments and strips in bronchoscopic brush, lavage, aspirate, or transbronchial/tracheal fine needle aspirations. Epithelial cells have a uniform, honeycomb appearance
en face
, and columnar shape with basally located round uniform nuclei, terminal plates and cilia from profile (Fig. 
2.1
A, B & C). Rare goblet cells (Fig. 
2.2
) and reserve cells (Fig. 
2.3
) can be present; they are more frequently found in reactive conditions (see Chapter 3).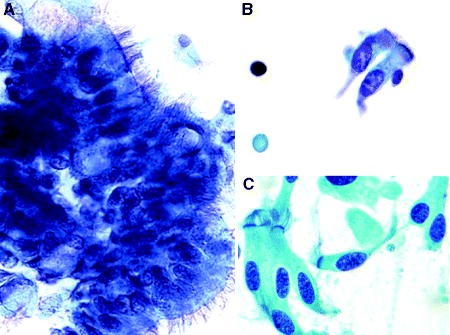 Keywords
Idiopathic Pulmonary Fibrosis 
Small Cell Carcinoma 
Prussian Blue 
Multinucleated Giant Cell 
Hypersensitivity Pneumonitis 
These keywords were added by machine and not by the authors. This process is experimental and the keywords may be updated as the learning algorithm improves.
Suggested Reading
Antonakopoulos GN, Lambrinaki E, Kyrkou KA. Curschmann's spirals in sputum: histochemical evidence of bronchial gland ductal origin. Diagn Cytopathol 1987;3:291–294

PubMed

CrossRef

Google Scholar

Chen KTK. Psammoma bodies in fine-needle aspiration cytology of papillary adenocarcinoma of the lung. Diagn Cytopathol 1990;6:235–242

CrossRef

Google Scholar
Copyright information
© Springer Science+Business Media, LLC 2009