Innovation Infrastructure
Considering the crucial importance of innovation, it is surprising that the development and management of an innovation infrastructure is still embryonic compared with other aspects of business management. However, the development of an efficient innovation infrastructure has now become a top priority with companies that strive to become high-growth global leaders.
Innovation Tipping Points
The term innovation is normally used to describe the complete process from idea creation through delivery of the new product, process or service into the market. This will usually involve a number of steps such as, idea or invention, an induction phase, a development phase and the launch in the market. The inflection point at which the innovation moves out of the induction phase and enjoys rapid growth in the market is termed the "innovation tipping point" as shown in Fig.
3.1
.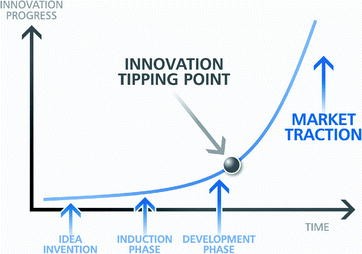 Keywords
Open Innovation 
Initial Public Offering 
Portfolio Management 
Hewlett Packard 
Initial Public Offering 
These keywords were added by machine and not by the authors. This process is experimental and the keywords may be updated as the learning algorithm improves.