Innovation Acceleration
The rate of innovation is expected to increase rapidly as knowledge grows exponentially and the global research expenditure on science and technology proliferates. The large numbers of scientists and engineers graduating from universities in the developing countries such as China and India will further reinforce this trend.
As previously discussed, it would appear that we are moving rapidly towards the sixth innovation wave of the Schumpeter theory. Indeed, there is good evidence to suggest that this wave may be driven by the current pace of innovation in the fields of renewable energy, clean technology, genomic developments in biotechnology and new materials emerging from nano-technology as shown in Fig.
16.1
.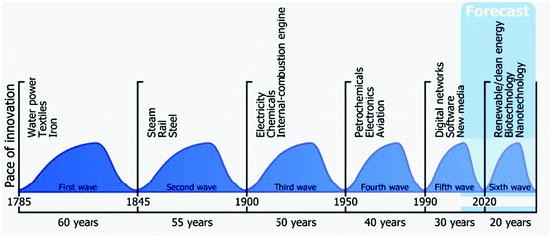 Keywords
Wind Power 
Personal Health Record 
Sustainable Innovation 
Innovation Infrastructure 
Wind Power Development 
These keywords were added by machine and not by the authors. This process is experimental and the keywords may be updated as the learning algorithm improves.