The global energy market is massive with a current consumption level of close to 15,000 gigawatts of power worth some $6 trillion per year. Large and high GDP growth, developing countries such as India and China are adding new power generation facilities at rates and volumes that the world has never experienced before. For cost reasons, most of these new power generation facilities are currently based on coal as a fuel which, due its high level of impurities, makes it expensive to properly clean the off-gas emissions and, without this treatment, results in high levels of air pollution. In addition, coal is rich in carbon which means that the carbon dioxide greenhouse gas emissions from these plants are also relatively high. This has led to a sharp rise and continued increase in carbon dioxide (CO
2
) emissions and climate change concerns, particularly from large and rapidly growing economies such as China and India as shown in Fig.
11.1
.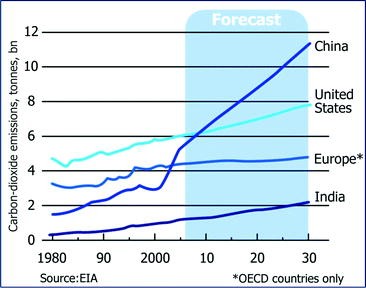 Keywords
Electric Vehicle 
Geothermal Energy 
Superheated Water 
Climate Change Concern 
Lithium Iron Phosphate 
These keywords were added by machine and not by the authors. This process is experimental and the keywords may be updated as the learning algorithm improves.