An Isolated Wolf Population in Central Wisconsin
7.1 Introduction
Wisconsin's Central Forest Region (CFR) is a 7,155-km
2
L-shaped area in west-central Wisconsin extending from Chippewa Falls and Eau Claire to Tomah, Adams-Friendship, and Wisconsin Rapids (Fig.
7.1
; Curtis
1959
; Finley
1976
). The CFR lies within the unglaciated driftless area and consists of flat, sandy, late Pleistocene glacial lake sediments and occasional Cambrian sandstone or Precambrian igneous outliers. Extreme western portions of the CFR consist of ridges and deeply incised valleys of Cambrian sandstones (Martin
1965
; Schultz
1985
). This region was logged between 1850 and 1920. In the past century its marshes were drained, its uplands and lowlands farmed, and much of it was abandoned by the time of the Great Depression of the 1930s (Grange
1948
).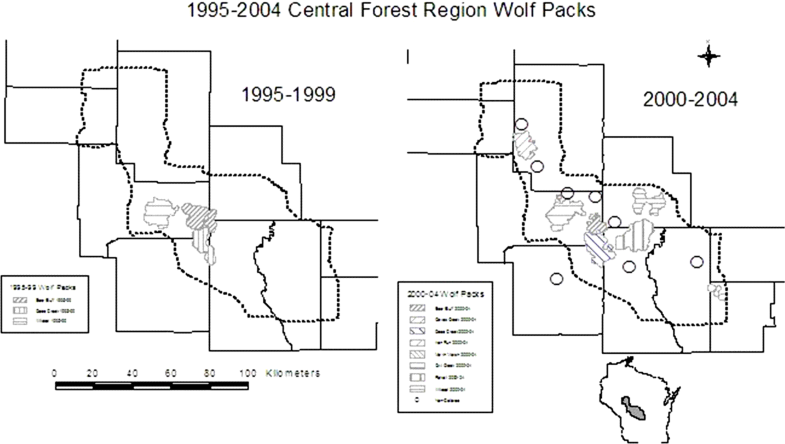 Keywords
Pack Size 
Territory Size 
Gray Wolf 
Wolf Population 
Deer Density 
These keywords were added by machine and not by the authors. This process is experimental and the keywords may be updated as the learning algorithm improves.
Notes
Acknowledgments
We acknowledge the work of numerous summer howl and winter track survey volunteers, various personnel of the US Fish and Wildlife Service at Necedah National Wildlife Refuge, US Department of the Army personnel, officials at Wood County and Jackson County Forestry, numerous Bureau of Wildlife Management staff within the Wisconsin Department of Natural Resources, and Matthew Schuler who performed the statistical calculations.
Copyright information
© Springer Science+Business Media, LLC 2009