The Use of Best Practice Standards and Guidelines in Information Security Governance
Introduction
The authors introduced their Model for Information Security Governance (ISG) in Chapter 4. This Model indicated that Best Practices form a 'foundation' on which the other dimensions are placed. The Model is again provided in Fig.
5.1.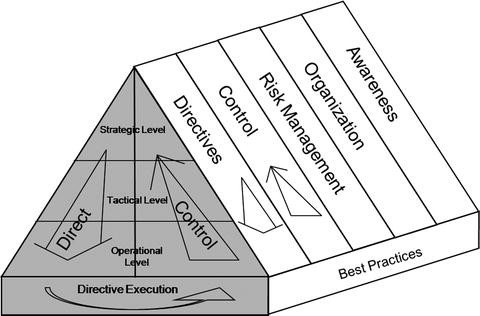 Keywords
Corporate Governance 
Access Control 
Information Security 
Intellectual Property Right 
Security Incident 
These keywords were added by machine and not by the authors. This process is experimental and the keywords may be updated as the learning algorithm improves.
References
1.

ISO/IEC 27002 (2005). Information Technology–Security Techniques–Code of Practice for Information Security Management. International Organization for Standardization. Available from

www.iso.ch

2.

Von Solms, SH (2005) Information Security Governance: COBIT or ISO 17799 or Both? Computers & Security, 24(2), 99–104

CrossRef

Google Scholar
Copyright information
© Springer Science+Business Media, LLC 2009