HSS Architecture and Design
The tutorial example of the HSS EX10 core was introduced in Chap. 2, and was described from a user's point of view. The description of this core is continued in this chapter to cover architecture, major subsections, circuit basics, and core construction. This description serves as an example of an approach to Serdes architecture and design since a comprehensive treatment of the subject would require an entire textbook.
As depicted in Fig.
3.1
, the Serdes core contains three major sections (or
slices
using the nomenclature introduced in Chap. 2). The HSS EX10 is configured in a full duplex arrangement with both transmitter and receiver functions present. Simplex cores contain either transmit or receive functions.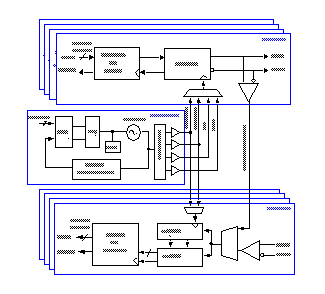 Keywords
Decision Feedback Equalizer 
Variable Gain Amplifier 
Timeout Period 
Baud Rate 
Power Supply Rejection Ratio 
These keywords were added by machine and not by the authors. This process is experimental and the keywords may be updated as the learning algorithm improves.
Copyright information
© Springer Science+Business Media, LLC 2008