Transport and Time-Slicing Mechanisms in Multistandards for Mobile Broadcasting
9.1 Introduction
In a multimedia broadcasting system, the transport mechanism performs all the necessary adaptation and multiplexing functions in order to adapt the IP or the raw, non-IP multimedia streams to the final baseband format that will be sent to the modulator. In this sense, it can be actually considered as a separate layer in the broadcasting system layer stack (Fig.
9.1
). However, we avoid calling it as the "transport layer" in order not to confuse it with the transport layer of the OSI (Open Systems Interconnection) model, which has a slightly different hierarchical position.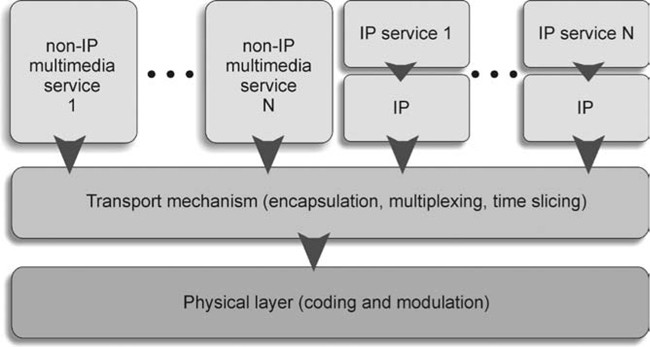 Keywords
Orthogonal Frequency Division Multiplex 
Broadcasting System 
Digital Video Broadcasting 
Transport Stream 
Multimedia Stream 
These keywords were added by machine and not by the authors. This process is experimental and the keywords may be updated as the learning algorithm improves.
Copyright information
© Springer Science+Business Media, LLC 2009