Cytokine Receptors and Signaling
Introduction
The biological effects of cytokines result after they interact with their highly specific cell surface receptors distributed on various tissues. The ligand–receptor interaction is quite limited to produce the biological responses since the number of cytokine receptors varies from as low as 10
2
/cell to as high as 10
5
/cell and the range for their affinity is about 10
10
M
–1
. The cytokine receptors are generally composed of multiple polypeptide chains, all of which may interact for the successful transmission of the cytokine-induced signal. There are five families of cytokine receptors, which include immunoglobulin superfamily receptors, class I cytokine receptor family (hematopoietin receptor family), class II cytokine receptor family (IFN receptor family), TNF receptor family and chemokine receptor family (Fig.
3.1
).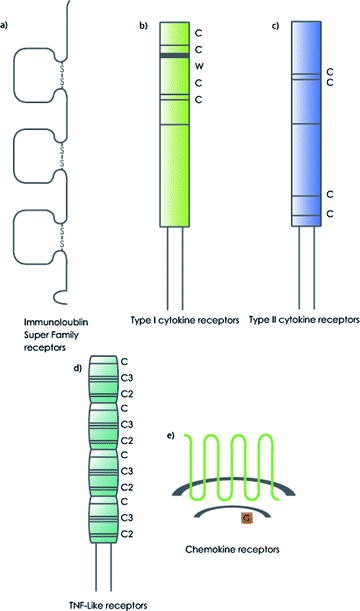 Keywords
Cytokine Receptor 
Janus Kinase 
Phosphotyrosine Residue 
Cytokine Receptor Family 
Tripeptide Motif 
These keywords were added by machine and not by the authors. This process is experimental and the keywords may be updated as the learning algorithm improves.
Copyright information
© Springer Science+Business Media, LLC 2008