Regulatory T Cells and Tumour Immunotherapy
Abstract
Immune responses influence the development and progression of a malignancy. However, the tumor can manipulate the immune system on its own end, often resulting in an ineffective tumor immunity and immune suppression, ablating the clinical efficacy of tumor therapy. An appreciation of the complexity of the interaction between tumor and host immune system is important for the development of effective cancer therapies. The chapter will emphasize regulatory T cells as a prominent mechanism whereby tumors escape tumor immunity and highlight the newly therapeutic strategies by targeting Treg cells in patients with cancer.
Keywords
Treg Cell 
Suppressive Activity 
Tumor Immunity 
Dendritic Cell Vaccination 
Objective Clinical Response 
These keywords were added by machine and not by the authors. This process is experimental and the keywords may be updated as the learning algorithm improves.
20.1

Introduction

In patients with cancer surgical cytoreduction, chemotherapy and radioactive therapy remain the most effective modalities to significantly reduce tumor mass, maximally minimize metastasized tumor and residual disease. However, patients often die at tumor metastasis and residual disease. Why, then, can't the immune system control tumor metastasis and residual disease? Recent evidence has pointed out that immune tolerance established during tumor development may prevent and suppress tumor immunity and disable clinical efficacy of tumor therapy.

It was suggested 40 years ago that tolerance is at least partially regulated by a subpopulation of T cells with suppressive activity [

1

]. However, this concept was met with skepticism in the scientific field during the last 25 years. The interest in suppressor T cells, or more commonly called regulatory T cells (Treg cells) has been initiated and enforced by Drs. Sakaguchi [

2

] and Shevach [

3

,

4

]. Dr. Sakaguchi demonstrated that CD25 could be a useful marker for Treg cells [

2

] (Fig.

20.1

). Dr. Shevach established a functional assay to define Treg cells [

4

]. Further, Drs. Sakaguchi, Shevach and other investigators have demonstrated the immunosuppressive effects of Treg cells in multiple mouse autoimmune disease models.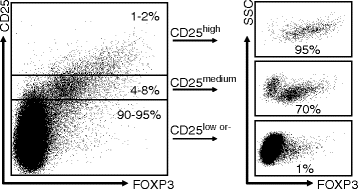 20.2

Treg Cells in Patients with Cancer

In the early eighties, Drs. North, Bursuker and Berendt showed that CD4

+

T cells isolated from tumor bearing mice inhibit tumor rejection [

5

,

6

,

7

]. It is now well known that CD4

+

CD25

+

Treg cells are responsible for this suppression [

8

,

9

]. In the last 10 years, high levels of Treg cells were found in many human tumors including ovarian cancer [

10

,

11

], lung cancer [

11

,

12

], gastric cancer [

13

], breast cancer [

14

], pancreas [

14

] and gastric carcinomas [

13

], melanoma [

15

], Hodgkin's [

16

] and non-Hodgkin's [

17

] lymphomas [

15

,

18

,

19

,

20

]. Further, tumor Treg cells are inversely associated with patient survival [

10

,

13

]. Given the suppressive nature of Treg cells in vitro and ex vivo in human studies as well as the in vivo suppressive capacity in multiple mouse models, it is reasonable to presume that Treg cells suppress tumor immunity in vivo in patients with cancer. Manipulation of Treg cells is a novel strategy to treat patients with cancer (reviewed in [

21

,

22

]) (Fig.

20.2

).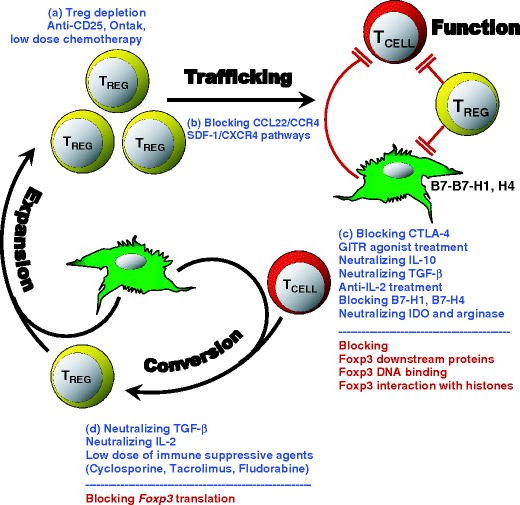 20.3

Depletion of CD25+ Cells in Patients with Cancer

CD25 is a useful phenotypic marker for Treg cells [2]. Anti-CD25 antibody has been used to deplete Treg cells in mice in vivo. Depletion of CD25+ cells reduced tumor growth, induced tumor regression, increased survival and improved tumor immunity in mice [8,23, 24, 25, 26]. The data lead to the human clinical trials to deplete Treg cells by administrating Ontak (denileukin diftitox). Ontak has been approved by the Food and Drug Administration (FDA) to treat CD25+ cutaneous T-cell leukemia/lymphoma. In Ontak, the interleukin (IL)-2 gene is genetically fused to the enzymatically active and translocating domains of diphtheria toxin [27,28]. Ontak, after bounding by IL-2 receptor, is translocated into the cytosol, where inhibition by diphtheria toxin protein synthesis results in cell apoptosis.

In vitro experiments showed that Ontak (Table

20.1

) eliminated Treg cells without affecting CD25

–/intermediate

lymphocytes in peripheral blood mononuclear cells in patients with renal cell carcinoma [

29

]. A single dose of Ontak (12 μg/kg) reduced phenotypic and functional peripheral CD4

+

CD25

+

Treg cells in lung, ovarian and breast cancer patients [

30

]. Although an objective clinical response was observed in one ovarian cancer [

30

], there are insufficient data to evaluate the clinical efficacy of Ontak treatment. One study examined the combination of Ontak with dendritic cell (DC) vaccination. In this study, the administration of single dose of denileukin diftitox into renal cells carcinoma patients resulted in reduction of Treg cells in blood and in abrogation of Treg-mediated suppressive activity. In contrast, Ontak was reported to have no significant effects on Treg cells in patients with metastatic melanoma [

31

]. Variable effects of Ontak treatment could be related to Ontak dose, administration regimen, type of cancer and probably other factors.

Table 20.1

In vivo and in vitro effect of ONTAK on human Treg cells

Nonetheless, Ontak administration has to be optimized for maximal efficiency of reducing Treg cells, but not other cell depletion. For example, it was reported that more than four weekly infusions of Ontak resulted in a depletion of effector T cells [30] (Table 20.1). The study in patients with metastatic melanoma also showed that Ontak could reduce the number of CD8+CD25+T cells and that this ability is strictly related to the Ontak dose [31]. Notably, the potential risk of depleting CD25 effector T cells may be higher in human than in mice. Mouse CD25+T cells are mostly Foxp3+Treg cells. It is well known that human CD4+CD25highcells are predominately Foxp3+cells. However, human CD25low/mediumT cells include both Foxp3+and Foxp3–cells [32] (Fig. 20.1). It is possible that some CD25low/mediumT cells are effector T cells and become a target of Ontak.

On the other hand, targeting Treg cells may not be as effective in patients with advanced disease as in patients with early stage diseases. In mouse tumor models, depletion of Treg cells is significantly more efficient to induce tumor regression before tumor inoculation or at the early stage of cancer than in well-established tumors [8,23,25]. It is possible that Ontak treatment in advance human cancers have to be combined with other modalities to boost TAA-specific immunity. Indeed Ontak was combined with transfected by tumor RNA-transduced DC vaccination [29]. The authors observed that tumor-specific T cell response was enhanced in patients treated with Ontak and DC vaccination compared to those receiving the vaccine alone. Tumor specific T cell immunity induced by CpG vaccination is suppressed by activated Treg in tumor tissue [15]. It is suggested that immune stimulation or vaccination after Ontak treatment could maximize the protective effects of tumor effector T cells.
20.4

Modification of Treg Cell Function
20.4.1

Targeting of CTLA-4+Cells

CTLA-4 binds the CD80 (B7-1) and CD86 (B7-2) ligands on APCs. The affinity of CTLA4 for binding both CD80 and CD86 is 20–100 fold higher than that of CD28 [33]. In opposition to the stimulatory role of CD28 in T cell activation, CTLA4 transmits the inhibitory signals and plays an essential role in preventing the development of immune pathology. Cross-linking of CTLA-4 downregulates T cell proliferation and cytokine production, whereas blockade of CTLA-4 enhances T cell activation [34,35]. Loss of CTLA-4 in CTLA-4-deficient mice leads to lymphoproliferative disease resulting in multiorgan and tissue destruction [36, 37, 38]. Human CTLA-4 polymorphism is associated with autoimmune disorders [39]. These observations indicate a critical role for CTLA4 in the negative regulation of the Tcell compartment.

Interestingly, CTLA-4 is constitutively expressed by Treg cells, but not naïve T cells [40, 41, 42]. Activation of Tcells induces CTLA-4 expression. However, the level of CTLA-4 at the cell surface remains limited due to the rapid endocytosis of surface CTLA-4. In mouse models, anti-CTLA-4 antibody administered before tumor inoculation or in an early stage resulted in the tumor rejection; meanwhile, when it was administered to the established tumor, tumor immunity was improved and tumor regression was observed (reviewed in [21,22]). However, the treatment appeared to result in an increase of autoimmune disease [43], especially in gastrointestinal disturbances [44,45].

Anti-CTLA-4 antibody has been used in clinical trials in treating patients with certain cancers. Anti-CTLA-4 induces durable objective clinical responses (Table

20.2

) associated with the induction of autoimmune adverse effects [

46

]. Anti-CTLA-4 therapy induces much higher incidences of autoimmune diseases than anti-CD25. It suggests that anti-CTLA-4 and anti-CD25 may act differently including at different targets. Further, anti-CTLA-4 did not reduce the absolute numbers of CD25

+

Treg cells in mice. Multiple doses of anti-CTLA-4 did not change CD25 and

Foxp3

mRNA expression [

47

], although a slight decrease in the percentage of CD4

+

CD25

+

was observed (Table

20.2

). Anti-CTLA-4 failed to alter the suppressive activity of human CD4

+

CD25

+

Treg cells [

48

,

49

,

50

,

51

].

Table 20.2

In vivoeffect of anti-CTLA-4 antibody treatment
 

Treatment

 
 
 
 
 
 
 
 

In vivo effects on

objective clinical

 

Cancer

anti-CTLA-4 mAb

Combination

Case (n)

Treg cells

response

Ref

melanoma

10 or 15 mg/kg every 3 months

–

12

Decreased CD4+CD25+

(2.2%)

17%

[108]

melanoma

intrapatient dose-escalation (3 to 9 mg/kg)

–

46

Decreased CD4+CD25+

(0.5 to 6.8%)

11%

[46]

melanoma

intrapatient dose-escalation (3 to 9 mg/kg)

–

4

No change in CD4+CD25+, Increased Foxp3+suppression

–

[47]

melanoma

3 mg/kg, single dose

IL-2

36

–

21%

[109]

melanoma

3 mg/kg every 3 weeks

peptide vaccine

29

Decreased CD4+CD25+(2.6%)

14%

[45]

melanoma

Dose reduced from 3 to 1 mg/kg every 3 weeks.

peptide vaccine

27

 

11%

[45]

melanoma

3 mg/kg every 3 weeks

No known

113

–

13%

[110]

melanoma

3 mg/kg every 3 weeks

peptide vaccine

14

–

21%

[43]

ovarian carcinoma

3 mg/kg, single dose

tumor vaccine

2

–

–

[111]

melanoma

3 mg/kg, single dose

tumor vaccine

3

–

–

[111]

melanoma

3 mg/kg, single dose

melanosomal antigens

4

–

–

[111]
Anti-CTLA4 antibody may abrogate mouse Treg cell-mediated suppression in vitro and in vivo [41,42,52, 53, 54]. However, the mechanism by which CTLA-4 influences the suppressive effect of Treg cells remains unclear in mice and humans. CTLA-4 ligation can induce TGF-β production [55]. TGF-β may in turn support Treg cell function and expansion. One possibility is that Treg cells may enable suppressor activity to APCs through CTLA-4 by triggering indolamine 2,3 dioxygenase (IDO) expression. Nonetheless, although anti-CTLA-4 may predominantly target non-Treg cells in humans, blocking CTLA4 signals could be an option for treating cancer patients.
20.4.2

Anti-GITR Antibody

Treg cells, but not fresh CD25–T cells express this member of the TNFR family [56,57]. But GITR is not specific for Treg cells. Expression of GITR is rapidly induced in CD25–T cells by TCR engagement [57,58] and in APCs by activation stimuli (e.g. lipopolysaccharide) [57,59]. In a later phase of T cell response, GITR expression is reduced in both T cells and APC but constitutively expressed in Treg cells.

Agonistic anti-GITR monoclonal antibody, DTA1, can reduce the suppressor function of Treg cells [56,57] and co-stimulate effector function of T cells[58, 59, 60, 61]. Administration of DTA1 protected animals against secondary melanoma [62] and stimulated immunity against MethA-induced fibrosarcoma [25]. Moreover anti-GITR treatment synergized with CTLA-4 neutralization, but not with Treg cell depletion [25]. The contribution of modification of Treg cell function to tumor regression remains controversial. It has been shown that DTA1 can stimulate Treg cell proliferation in the presence of IL-2 without antigen stimulation [59,63]. Treg cells obtained from GITR deficient mice and wild type were equally able to exert suppressor activity, suggesting that GITR is not essential for Treg cell development and function [63]. Addition of anti-GITR antibodies to cocultures of Treg cells and CD25–T cells from wild-type and GITR –/–mice demonstrated that the target for the Ab-mediated reversal of suppression was the CD25–T cell, but not Treg cells [61]. Nonetheless, it is possible that DTA1 treatment has certain effects on Treg cells but predominantly stimulates T cells activation. The activated T cells would escape from Treg cell mediated suppression. The potential clinical usage of anti-GITR needs to be carefully examined.
20.4.3

Modulation of FOXP3 Molecular Signals

The Foxp3-dependent genetic program has remained largely unknown. Recently, Wu et al. proposed that a single transcription factor, NFAT (nuclear factor of activated T cells), can direct T cell activation if it is bound to AP-1, or T cell tolerance if it interacts with FOXP3 [64]. NFAT and Foxp3 complex binds to the forkhead element in the ARRE-2 region of the IL-2promoter and represses IL-2transcription through active deacetylation of histone H3 [64,65]. Interaction of Foxp3 with the NFAT also blocked IL-4 expression by T helper in the presence of Foxp3 [66]. NFAT DNA binding activity is dependent on Ca2+and controlled by calcineurin [67]. Cyclosporin A (CsA), tacrolimus (FK 506) and other calcineurin inhibitors suppress NFAT [68]. In fact, low doses of CSA induce Treg cell apoptosis and result in loss of suppressive activity of Treg cells [62,69, 70, 71]. Treatment with calcineurin inhibitors including tacrolimus [72,73] decreased Treg cells in periphery. Acting on NFAT in Treg cells may be one of the possible mechanisms of calcineurin inhibitors.

Immunosuppressants such as alkylating agents, corticosteroids and fluderabine achieve their suppressive activities through targeting the STAT1 pathway [74]. STAT1 and Jak2 expression are significantly increased after TCR stimulation in Treg cells, but not in other cells [56]. STAT1–/–Treg cells are functionally impaired [75]. Those results suggest that STAT1 signaling might be required for the development or/and functional activity of Treg cells. In support of this, the levels and function of Treg cells were reduced in a majority of patients with CLL treated with fludarabine-containing therapy regimens [76].

Thus, an attractive strategy to break Treg cell-mediated tolerance is to develop small molecules that block NFAT and Foxp3 interaction without interfering with the interaction of NFAT and AP-1 or that specifically interfere FOXP3translation activator complex and the FOXP3repressors.
20.5

Modification of Treg Cell Trafficking

It has been reported that a majority of human peripheral blood CD4+CD25+Treg cells express lymphoid homing molecules CD62L and CCR7 [77,78]. However, Treg cells cells also express variable levels of peripheral tissue-homing molecules such as CLA, CCR4, CCR8 and α4β7 and αEβ7 integrins [10,79, 80, 81, 82, 83, 84, 85]. One hypothesis is that Treg cells may traffic into effector sites in an organ or tissue specific manner. Specific trafficking molecules may control Treg cell migration [21,22,86,87]. It is possible that blockade of tumor-specific Treg cell trafficking may lead to potent tumor immunity and tumor regression (Fig. 20.2).

Indeed, human CCR4+Treg cells migrate toward CCL22 produced in the tumor microenvironment and blockade of CCL22 and CCR4 pathway in vivo reduces Treg cell tumor trafficking [10]. Treg cells can trigger APC IL-10 production, which in turn stimulates B7-H4 expression and renders APCs suppressive through B7-H4 [88]. It suggests that specific blockade of Treg cell trafficking into the tumor environment could elicit potent tumor immunity by promoting APC function.
20.6

Modulation of Treg Cell Expansion

Treg cell expansion can be controlled by cytokine milieu. Schramm et al. [89] and Chen et al. [90] demonstrated that TGF-β and TCR stimulation convert naive mouse CD4+CD25–T cells into CD4+CD25+Treg cells. These studies were confirmed by subsequent experiments in both mouse and human systems [90, 91, 92, 93, 94, 95, 96, 97, 98, 99]. Further, it appears that a tumor selectively promotes the proliferation of Treg cells via TGF-β produced by a subset of DCs exhibiting a myeloid immature phenotype [100,101]. TGF-β not only impacts Treg cell expansion, but also on their natural suppressive activity [102,103]. The data suggest that blocking TGFβ production or signal pathway may be therapeutically meaningful. In support of this concept, treatment with anti-TGF-β antibody decreases the conversion of T cells into Treg cells in mice [104]. In addition to Treg cells, TGF-β can be a growth factor for multiple epithelial tumors (review in [105]). Thus, blocking the TGF-β signal pathway may function as one stone capable of killing two birds, Treg cells and tumor cells.

Several TGFβ signaling antagonists are under active investigation. NovaRx is conducting Phase I/II clinical trials on a TGFβ2antisense-modified allogeneic tumor-cell vaccine. In a preclinical study, rats bearing intracranial gliomas were immunized with gliosarcoma cells expressing TGFβ antisense plasmid. All the treated animals survived for the 12-week study period compared with only 13% of the control animals [106]. Optimistically, 2 out of 6 patients treated with autolougus tumor cells expressing TGFβ antisense (AP 12009) showed objective clinical response, and 2 out of 6 patients exhibited stable disease [107]. In April 2005, an international open-label, active-controlled, randomized parallel-group phase IIb trial in adult patients with recurrent high-grade glioma was completed with 145 patients enrolled [105]. Patients are currently either on treatment or in follow-up. No clinical data have been published yet.
20.7

Concluding Remarks

Treg cells play a key role in induction of tumor related immune suppression. In order to engender potent tumor immunity and lead to tumor regression, Treg cells could be targeted in multiple ways (Fig. 20.2). The direct approach is to specifically deplete Treg cells. However, the lack of a specific surface marker makes this strategy less attractive. There are several other options including controlling of Treg cell expansion, their trafficking into tumors or tumor-draining lymph nodes and inhibiting their function. The increasing knowledge about molecular mechanisms controlling Foxp3 expression and action may lead to develop specific inhibitors to precisely inhibit Treg cells development and function.
Copyright information
© Springer Science+Business Media, LLC 2008