Abstract
By the end of this 21st century,
Homo sapiens
might well be described as an
interstitial species
. We are not just between two time periods, but between two ways of life. Humankind is being transformed from a terrestrial to an extraterrestrial being. In the process of this metamorphosis, our species will be changed both physically and psychologically, especially if genetics are engineered or synthetically induced characteristics are used to ensure survival aloft. Beginning with this new millennium, social practices, institutions, and knowledge organized for living on Earth are being profoundly altered to acclimate to offworld living conditions. The survival of the species in outer space demands significant adaptation to differing environmental realities. Technology and management have already discovered that both with spacecraft and spacefarers, innovative approaches must be created for dealing with the complexities of safely getting and keeping humans in orbit, as well as returning them back unharmed. Limited experience in this Space Age teaches us powerful lessons: (1) the necessity for
synergy
that goes beyond individual organizations, nations, and disciplines, as discussed in Chapter 2; (2) the
interdependence
of all life systems, especially between those of Earth and those considered non-terrestrial.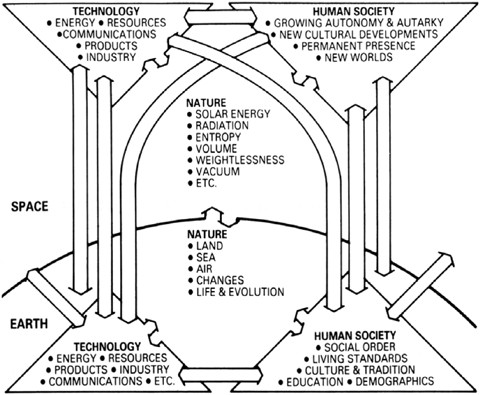 Keywords
Behavioral Science 
Space Exploration 
International Space Station 
Outer Space 
Space Debris 
These keywords were added by machine and not by the authors. This process is experimental and the keywords may be updated as the learning algorithm improves.
Copyright information
© Praxis Publishing Ltd, Chichester, UK 2009