Extracorporeal Life-Support for Acute Drug-induced Cardiac Toxicity
Abstract
Cardiovascular toxicity is a potential complication following accidental or intentional overdose with various classes of drugs. The term 'cardio-toxic drug' is not limited to cardiovascular drugs but also includes various other toxicants, such as antidepressants, meprobamate, H1-antihistaminic agents, nivaquine, cocaine, organophosphates, cyanide, and plants (
Table 1
).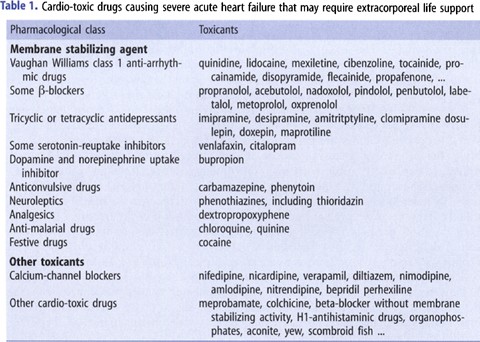 Despite improvement in critical care, drug-induced cardiovascular failure still remains a leading cause of death. The mortality rate remains high in poisonings with compounds that include membrane stabilizing agents in addition to their main pharmacological activity [
1
]. Of 847,483 exposures in adults reported to the American Association of Poison Control Centers in 2005, cardiovascular drugs were involved in 5.8% of cases; however, they accounted for approximately 19% of the total 1,261 poisoning fatalities, representing the fifth toxicant category responsible for death, following analgesics, sedative drugs, antidepressants, and stimulants [
2
]. In this register, calcium channel blockers and beta-blockers accounted for 40% of cardiovascular drug exposures, while calcium channel blockers represented the first cause of cardiovascular agent-related death.
Keywords
Poison Control Center 
Extracorporeal Life Support 
Toxicol Clin Toxicol 
Cardiotoxic Drug 
Chloroquine Poisoning 
These keywords were added by machine and not by the authors. This process is experimental and the keywords may be updated as the learning algorithm improves.
Copyright information
© Springer Science + Business Media Inc. 2008