Abstract
In 1991 there appeared an article [
1
] by a well-known scientist entitled 'Does climate still matter?' with the summary stating, 'We may be discovering climate as it becomes less important to well being. A range of technologies appears to have lessened the vulnerability of human societies to climate variation.' In 2007 more than a thousand contributors congregated in various places to draft the Intergovernmental Panel on Climate Change Fourth Assessment Report (henceforth IPCC-AR4) under three headings (
Table 6.1
). As Working Group II concluded [
2
], 'Some large-scale events have the potential to cause very large impacts, especially after the 21st century'. Part of the difference is that the 1991 article was written from a developed country perspective, while it is now clear that climate change will strike the less-developed countries the hardest. But, in addition, we have begun to realize that many aspects of global warming will become irreversible if no action is taken to limit CO
2
emissions during the first half of the present century. Perhaps the clearest example is the risk that an irreversible melting of the ice caps on Greenland and on west Antarctica would be initiated which could raise sea level ultimately by 13 meters, flooding large heavily populated areas. It is doubtful that any foreseeable technological fixes would be able to mitigate such a development.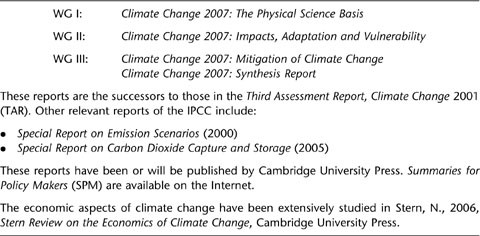 Keywords
Climate Future 
Geophysical Research Letter 
Third Assessment Report 
Climate Change Fourth Assessment Report 
Sahara Region 
These keywords were added by machine and not by the authors. This process is experimental and the keywords may be updated as the learning algorithm improves.
Copyright information
© Praxis Publishing Ltd. 2008