Introduction
Azobenzene derivatives have been used as backbone constituents or side-chain clamps to photocontrol in reversible manner conformational states of model peptides [
1
,
2
]. Because of the ultrafast isomerization (within picoseconds), this chromophore allows spectroscopic monitoring of the fast kinetics of folding/unfolding of model peptides with ordered secondary structure motifs such as β-turns, α-helices and most recently even of β-hairpins [
3
,
4
]. Aim of the present work was to gain new insights into the kinetics of assembly of tertiary structure motifs such as the collagen triple helix. For this purpose model peptides were conformationally restricted with a suitable azobenzene clamp in the
trans
-isomeric state (see Figure
1
), which upon photoisomerization provokes unfolding of the triple helix [
5
].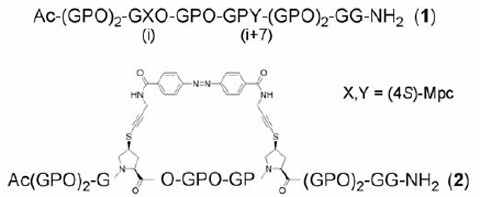 Keywords
Triple Helix 
Model Peptide 
Refold Process 
Collagen Chain 
Collagen Peptide 
These keywords were added by machine and not by the authors. This process is experimental and the keywords may be updated as the learning algorithm improves.
Notes
Acknowledgments
The work was funded by the DFG (SFB 533, grant A8).
Copyright information
© Springer Science+Business Media, LLC 2009