Keywords
Cyclic Peptide 
Pharmaceutical Market 
Peptide Drug 
Sustained Release Formulation 
Site Pharmacophore 
These keywords were added by machine and not by the authors. This process is experimental and the keywords may be updated as the learning algorithm improves.
Introduction
The peptide market is growing nearly twice as fast as the overall pharmaceutical market due to an increased number of therapeutic targets and improved delivery methodologies. There are 67 therapeutic peptides on the market, 150 in clinical phases, 400 in advance pre-clinical stages. Over 100 pharmaceutical and biotech companies are active in the peptide field. The market size for peptide drugs in 2007 is estimated to be 3.01 billion US$. [1]
Important factors and questions need to be considered before starting peptide based projects. They include: is there an unmet medical need, and an opportunity to define clinical differentiation for the indication of interest? What is the market size? What about the competitive landscape in the clinic and in the market? Is the target amenable to alternate approaches, such as small molecules or monoclonal antibodies? What are the de-risking approaches vs. small molecules and monoclonal antibodies? What are the possible delivery methods? Are the starting materials available in the amount needed? What will the cost of goods be? To illustrate these points, Male erectile dysfunction (MED) and obesity indications will be used.
Results and Discussion
Medical need for MED: There are approximately 70 million men in seven major pharmaceutical markets diagnosed with MED, due to aging population, lifestyle and increased prevalence of chronic diseases that predispose men to ED drive increase prevalence. Current oral agents (PDE-5 inhibitors) target peripheral erectogenic mechanisms have 20–30% non responders, and face issues related to headaches, dyspepsia and flushing. A melanocortin (MC-4) receptor agonist may restore the natural function of neuro-hormonal pathways in mediating sexual response and offer a non-PDE-5 choice to effectively and safely restore erectile and sexual function. [2]
Medical need for treatment of obesity: in the US there are 42.5 million people estimated to be obese (BMI 30+), and 105.5 million are estimated to be overweight and obese (BMI 25+) which represent 38.7% of the US population. Current approaches for treatment of obesity include dietary, surgical intervention and pharmacotherapy. Pharmacological and genetic evidence suggests that MC-4R is a key regulator of energy homeostasis and feeding behavior regulation, and therefore an MC-4 agonist should be effective as a pharmaceutical anti-obesity agent. [3]
Small molecule vs. peptides: Are these targets amenable for small molecules approaches? We developed a strategy for de-risking such projects by using a designed series of peptides, for example: N- and C-terminal truncation, systematic substitutions with Ala, (D) and N-methyl amino acids; helix stabilization, cyclo scan using side chain to side chain, and end to end cyclization, ring size variation, all of which allow definition of the size and nature of the active site pharmacophore, and a judgment as to whether it can be replicated by a small molecule.
Delivery strategies: Advances in nasal, inhalable, bucal, sublingual and oral formulations and delivery systems have been made recently which enable non intravenous administration of peptides. In addition sustained release formulation using Poly(lactide-co-glycolide). PLGA, made it possible to have once weekly administration of a peptide drug by SC route of administration.
Identification of highly selective linear and cyclic peptides for human MC-4 Receptor: Extensive structure activity studies suggest that [His-(D)Phe-Arg-Trp] is regarded as a "pharmacophore core" essential to the interaction of the ligand to its receptor, and His is the most critical position responsible for the selectivity toward of MC-4R versus the other MC- receptors. Replacement of His with confor-mationally constrained amino-acids resulted in peptides highly selective for MC-4R [4]. Details of the synthesis and agonist activities of these linear and cyclic peptides are reported elsewhere [5].
In vivo efficacy of a Roche MC-4R specific agonist in the ex copula rat model:
MC-4R activation stimulates erectile activity in a variety of species, including man [
6
]. We tested a Roche MC-4R specific agonist in the ex copula rat model previously described [
7
], and compared the effects to the reference compound Melanotan-II. Intranasal (IN) administration of the Roche compound produced a significant number of observed erections compared to vehicle-treated animals, and was equipotent to Melanotan-II (Figure
1
). The Roche compound also exhibited a rapid onset of action: 37 % of the total erections occurred within 15 minutes, and an additional 43 % within 30 minutes.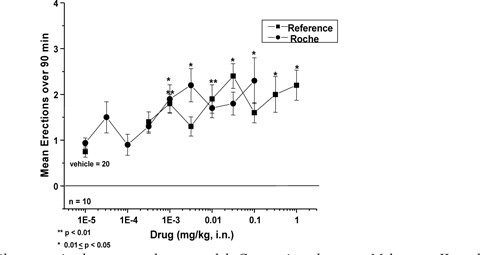 In vivo efficacy of Roche MC4-R specific agonist on food intake and body weight by IN route of administration in DIO mice model
: The role of the MC-4R agonist in controlling feeding behavior and body weight is well supported by several studies. We tested our MC-4 agonist in DIO mouse model. By IN route of administration, Roche compound acutely reduced food intake 66% @ 5 mg/Kg. as shown in (Figure
2
a). Moreover, the compound caused a significant reduction of food intake and 19 % reduction of body weight by sub-chronic (21 days), IN route of administration @ 5 mg/Kg, as shown in (Figure
2
b). In addition, the compound produced a significant dose-dependent (19%) reduction in plasma glucose and (18%) reduction in plasma cholesterol levels after sub-chronic treatment due to reduction of body weight.

Notes
Acknowledgments
The authors wish to thank Drs. Lee Babiss, Nader Fotouhi, Jefferson Tilley, Rebecca Taub, Louis Renzetti, Michael Brunda, Waseem Malick, and Lisa Chao from Roche (Nutley) and Drs. Anthony Ford and Sally Meadows from Roche (Palo Alto) for stimulating discussions, their support and encouragement during the course of this research.
Copyright information
© Springer Science+Business Media, LLC 2009