Abstract
Once a highly specialized subdiscipline of laboratory medicine, molecular diagnostics now infiltrates all of anatomic and clinical pathology. The shift from dependence on a few, relatively cumbersome methods to a wider range of technologies has facilitated this expansion. In addition, the completion of the Human Genome Project and the growing amount of sequence data related to infection, cancer, and other disease states have yielded additional applications of molecular biology for the clinical laboratory (
Figure 7.1
). As the various phases of testing can be automated in many instances, molecular biologic experience is no longer a prerequisite. In fact, performance of nucleic acid extraction and amplification in a tabletop unit is possible.
1
,
2
Increasingly, miniaturization will further move molecular testing to the point of care.
3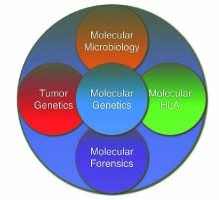 Keywords
Molecular Pathology 
Nucleic Acid Extraction 
Molecular Beacon 
Sequence Read Length 
Molecular Biologic Experience 
These keywords were added by machine and not by the authors. This process is experimental and the keywords may be updated as the learning algorithm improves.
Copyright information
© Springer Science+Business Media, LLC. 2008