Abstract
Pulmonary arterial hypertension is and has often been classified into two separate categories: primary pulmonary (arterial) hypertension, presently more often called idiopathic pulmonary arterial hypertension (iPAH), and secondary pulmonary arterial hypertension.
1
As in many other diseases, the secondary form was defined by presence of proven causes or risk factors, whereas the diagnosis of the primary form could be made only after excluding other causes of pulmonary arterial hypertension. In 1998, a clinical classification of pulmonary arterial hypertension was put forth, the so-called Evian classification.
2
In a recent conference in Venice a revised clinical classification of pulmonary arterial hypertension was proposed (
Table 58.1
).
3
Both the original and the revised classification was based on a clinical subdivision aimed at separating different categories within each category based on pathophysiology, clinical presentation, and therapeutic options. The clinical classifications were more or less based on assumptions that subsets of pulmonary arterial hypertension have a comparable spectrum of pathologic changes.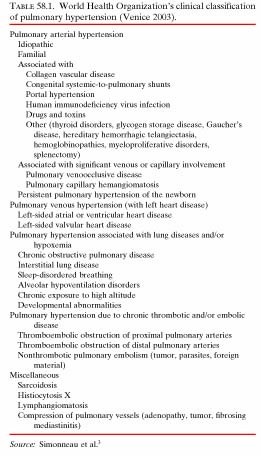 Keywords
Pulmonary Hypertension 
Pulmonary Arterial Hypertension 
Hereditary Hemorrhagic Telangiectasia 
Primary Pulmonary Hypertension 
Idiopathic Pulmonary Arterial Hypertension 
These keywords were added by machine and not by the authors. This process is experimental and the keywords may be updated as the learning algorithm improves.
Copyright information
© Springer Science+Business Media, LLC. 2008