Abstract
Asthma is an inflammatory disease of the airways in which patients suffer from episodic dyspnea, cough, and related symptoms accompanied by characteristic abnormalities of the airways that include the presence of eosinophil-predominant allergic inflammation and airway hyperresponsiveness to provocative challenge. The latter abnormality reflects the exaggerated tendency of the asthmatic airway to constrict in response to a broad range of provocative stimuli. Enhanced constrictive responses to especially histamine and cholinergic agonists are used in the bronchial provocation test as a diagnostic aid where disease status remains uncertain based on clinical grounds alone. Additional highly characteristic histologic features of asthma include a metaplastic response of the airway epithelium involving the appearance of mucous-secreting goblet cells with enhanced secretion into the airway of mucin gene products and subepithelial airway fibrosis (
Figure 51.1
). Both of these abnormalities contribute to airway obstruction acutely and chronically, with airway mucous impaction strongly linked to asphyxiation and death in severe asthma.
1
,
2
,
3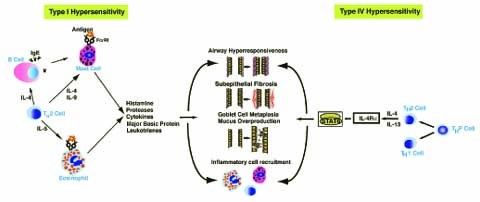 Keywords
Allergy Clin Immunol 
Respir Crit 
Airway Hyperresponsiveness 
Atopic Asthma 
Airway Hyperreactivity 
These keywords were added by machine and not by the authors. This process is experimental and the keywords may be updated as the learning algorithm improves.
Copyright information
© Springer Science+Business Media, LLC. 2008