Abstract
Pulmonary fibrosis can be idiopathic or secondary to inflammatory states or injuries (
Table 46.1
). The tempo ranges from insidious to rapid, and the location of the fibrous tissue can be centered around or in the airways (bronchiolitis obliterans) or in the alveolar compartment (idiopathic pulmonary fibrosis [IPF]). In this chapter, we focus on IPF, the paradigmatic fibrosing lung disorder.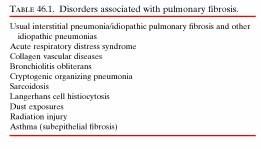 Keywords
Interstitial Lung Disease 
Surfactant Protein 
Lamellar Body 
Bronchiolitis Obliterans 
Discoidin Domain Receptor 
These keywords were added by machine and not by the authors. This process is experimental and the keywords may be updated as the learning algorithm improves.
Copyright information
© Springer Science+Business Media, LLC. 2008