Abstract
In the lung, as in other anatomic sites, inflammation can be regarded as a complex, generally salutary response of the body to injurious agents. This bodily response derives from a series of interconnected cellular and molecular events acting in concert with an equally complex array of neurogenic
1
,
2
and vasogenic factors.
3
,
4
,
5
Principal cellular actors playing a role in the inflammatory process include polymorphonuclear leukocytes, lymphocytes, plasma cells, eosinophils, mast cells, monocytes, and macrophages. Leading molecular compounds regulating cellular responses are chemical mediators such as vasoactive amines, prostaglandins, and leukotrienes, as well as members of the kinin and complement activation system (
Table 43.1
).
6
This chapter discusses the major forms of the inflammatory response, namely, acute and chronic inflammation, and addresses granulomatous inflammation. In addition, it covers mechanisms of response selection, innate immunity (Toll receptors), and specific cellular constituents, in particular, pulmonary alveolar macrophages and dendritic cells and their roles in antigen presentation and human leukocyte antigen (HLA)-linked diseases.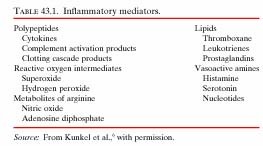 Keywords
Human Leukocyte Antigen 
Alveolar Macrophage 
Interstitial Lung Disease 
Human Leukocyte Antigen Class 
Hypersensitivity Pneumonitis 
These keywords were added by machine and not by the authors. This process is experimental and the keywords may be updated as the learning algorithm improves.
Copyright information
© Springer Science+Business Media, LLC. 2008