Abstract
The classification of lung carcinomas remains primarily morphologic with individual instances in which immunohistochemistry can serve as an adjunctive test. In the case of large cell carcinoma, the current WHO classification system remains partly one of exclusion; that is, the tumor should lack morphologic features that are generally associated with small cell lung carcinoma (SCLC), adenocarcinoma, and squamous cell carcinoma (
Figure 27.1A
).
1
For example, a poorly differentiated carcinoma with demonstrable mucin (more than five mucin-positive cells in at least two high-power fields) by special stains would be designated as solid adenocarcinoma with mucin rather than as large cell carcinoma.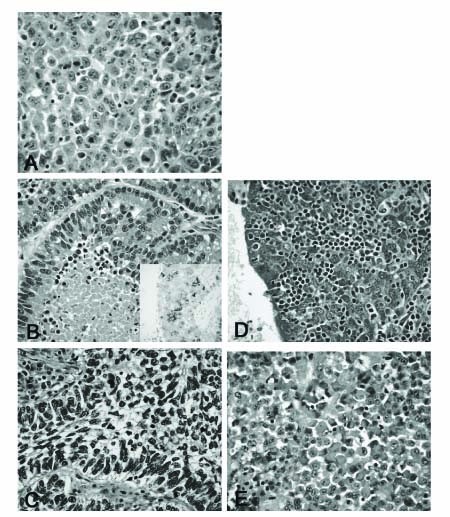 Keywords
Squamous Cell Carcinoma 
Epidermal Growth Factor Receptor Mutation 
Kras2 Mutation 
Neuroendocrine Carcinoma 
Small Cell Lung Carcinoma 
These keywords were added by machine and not by the authors. This process is experimental and the keywords may be updated as the learning algorithm improves.
Copyright information
© Springer Science+Business Media, LLC. 2008