Abstract
Comparative genomic hybridization (CGH) is a molecular cytogenetic method for the detection and mapping of chromosomal gains and losses.
1
It is based on the cohybridization of differentially labeled test and reference DNAs onto metaphase spreads, which usually have been prepared from peripheral blood lymphocytes of a healthy donor. The signal intensity ratios of the two labels along the chromosomes then reflect DNA copy number changes in the test genome relative to the reference genome. Although CGH has tremendously contributed to our knowledge of chromosomal aberrations, unfortunately its resolution is limited to about 3–10 Mb.
2
Resolution of CGH has significantly improved when samples were not hybridized to metaphase spreads but to DNA targets that have been arrayed on a glass substrate. This modification of the original technique has been named
array CGH
3
or
matrix CGH
.
4
In theory, resolution of array CGH is only limited by number and quality of DNA targets arrayed on the slide. The principle of array CGH is illustrated in
Figure 10.1
.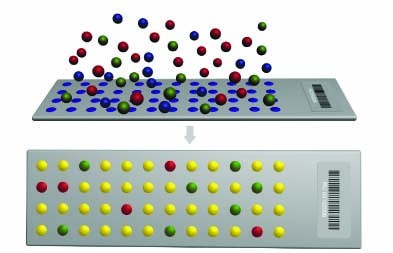 Keywords
Comparative Genomic Hybridization 
Array Comparative Genomic Hybridization 
Circular Binary Segmentation 
Array Comparative Genomic Hybridization Analysis 
Array Comparative Genomic Hybridization Data 
These keywords were added by machine and not by the authors. This process is experimental and the keywords may be updated as the learning algorithm improves.
Copyright information
© Springer Science+Business Media, LLC. 2008