Mesenchymal Tumors, Part II: Tumors of Hamartomatous, Osteochondromatous, Lipomatous, Neural, and Vascular Origin
Abstract
Pulmonary hamartomas, also known as benign mesenchymomas (and a variety of other names such as fibrochondrolipomas and adenochondromas) represent the most common benign neoplasms of the lung. However, the true frequency of lung hamartomas is difficult to measure since some predominantly chondroid tumors may variously be reported as either chondroid hamartomas or chondromas.
1
In one series, 100 (77%) of 130 benign tumor masses of the lung were hamartomas.
2
In a study of 7972 autopsies by McDonald et al.,
1
there were 20 hamartomas, a prevalence of about one case per 400 autopsies. Hamartomas are up to four times as common in men as in women in parenchymal locations, but of more equal sex distribution in the central regions (near the hilar areas) and occur mostly in the age group from the late 30s to the early 70s, with a peak in the late 50s and early 60s.
1
,
3
,
4
,
5
However, rare cases have been described in teenagers and children. Hamartomas have not been described at earlier ages; they are not seen in infants, and do not appear to be of congenital origin. Detailed vital statistics along with histopathologic data in a large series of cases reported by Tomashefski6 are presented in
Table 40.1
.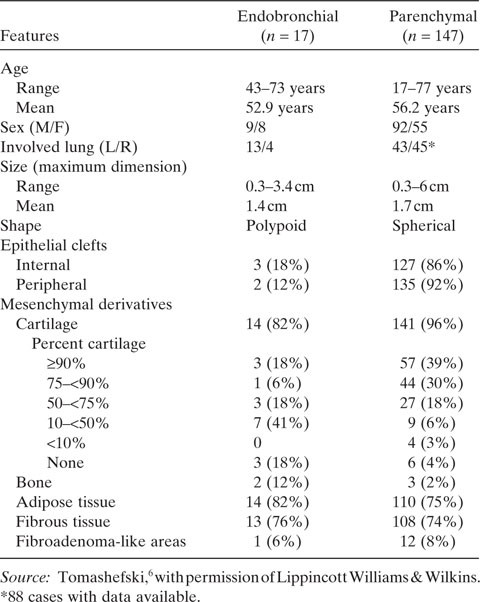 Keywords
Pulmonary Artery Sarcoma 
Pulmonary Chondroma 
Pulmonary Hamartoma 
Pulmonary Hamartomas 
Bronchioloalveolar Tumor 
These keywords were added by machine and not by the authors. This process is experimental and the keywords may be updated as the learning algorithm improves.
Copyright information
© Springer Science+Business Media, LLC 2008