The Basics of Chromosome Segregation
Scope of this Chapter
During cell division, chromosomes carrying thousands of genes are correctly transmitted to daughter cells via a motile apparatus named the mitotic spindle (a schematic outline of the cell (division) cycle is shown in Fig.
2.1
). In postreplicative (post S phase) cells, chromosomes comprise duplicated sister chromatids. In the cell cycle stage called mitotic metaphase, all sister chromatid pairs are aligned and bi-oriented to the spindle apparatus. In anaphase, all sister chromatids separate in concert and segregate oppositely along the anaphase spindle (towards the spindle poles/centrosomes) into the two daughter cells (Fig.
2.2
). The once-in-a-cell-cycle occurrence of the chromosome-segregation process suggests that this event should be studied with respect to cell cycle control (reviewed in Morgan
2006
).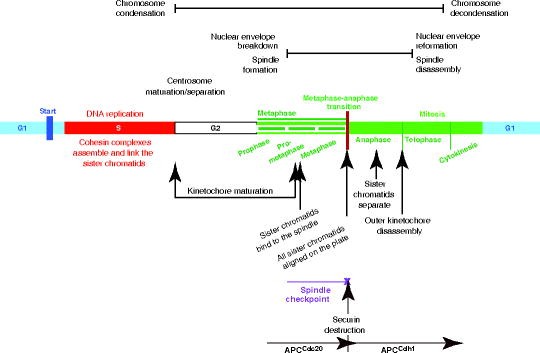 Keywords
Sister Chromatid 
Chromosome Segregation 
Spindle Pole 
Spindle Checkpoint 
Mitotic Checkpoint 
These keywords were added by machine and not by the authors. This process is experimental and the keywords may be updated as the learning algorithm improves.
Copyright information
© Springer Science+Business Media, LLC 2009