Mid-Lower Eyelid Tarsoconjunctival Flap-Skin Graft: Treatment of Cicatricial Lower Lid Retraction
Abstract
One challenging and potentially disfiguring postoperative complication associated with lower eyelid blepharoplasty is lower eyelid retraction, defined as a downward malposition of the lower eyelid margin. Severe postblepharoplasty lower eyelid retraction has been reported in up to 20% of cases.
1
,
2
,
3
,
4
In severe lower eyelid retraction, cicatricial attachments develop between the anterior lamella of the lower eyelid to the inferior orbital rim (
Figure 60.1
).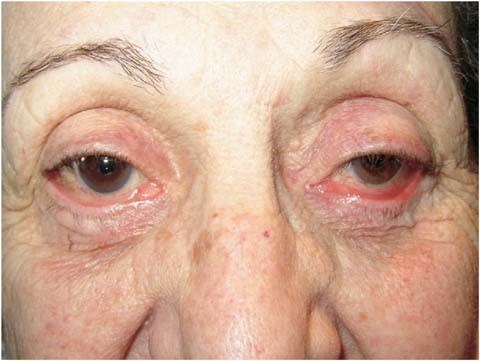 Keywords
Skin Graft 
Lower Eyelid 
Full Thickness Skin Graft 
Conjunctival Incision 
Lower Eyelid Margin 
These keywords were added by machine and not by the authors. This process is experimental and the keywords may be updated as the learning algorithm improves.
Copyright information
© Springer Science+Business Media, LLC 2008