Fat Preservation and Other Tips for Upper Blepharoplasty
Abstract
I prefer using the Ellman radiofrequency unit with a microdissection tip or the monopolar unit with a Colorado tip to incise the skin, as these afford simultaneous cutting and excellent hemostasis. The skin and orbicularis muscle are removed as single flaps generally, although a skin flap alone could be removed if there is preoperative concern for poor eyelid closure function. Next, the fat pads are addressed if prominent on the preoperative evaluation (
Figure 27.1
). In general, limited fat removal should be performed in order to avoid the appearance of a hollow superior sulcus. The trend in upper eyelid blepharoplasty has shifted to preservation, repositioning, or filling of the upper lid fat, rather than aggressive removal. If debulking is indicated, the fat should be conservatively removed over a curved hemostat in order to avoid orbital hemorrhage. Medial fat pad removal should bear in mind the location of the trochlea and superior oblique tendon, as well as the numerous fibrous attachments of these structures to the orbital fat. Generally, the orbital fat pads can be thermally sculpted with the Ellman roundball tip or the Colorado tip over an intact orbital septum, which limits the risk of hemorrhage or injury to adjacent structures, as well as requires much less operative time.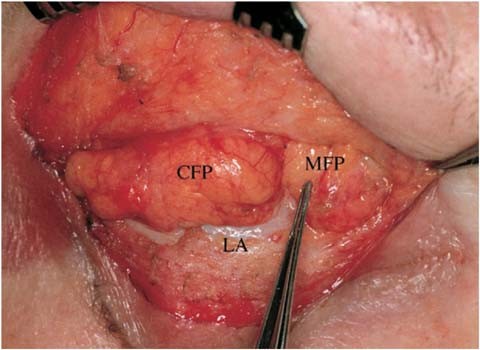 Keywords
Lacrimal Gland 
Superior Sulcus 
Epicanthal Fold 
Eyelid Blepharoplasty 
Aggressive Removal 
These keywords were added by machine and not by the authors. This process is experimental and the keywords may be updated as the learning algorithm improves.
Copyright information
© Springer Science+Business Media, LLC 2008