Keys to Success When Marking the Skin in Upper Blepharoplasty
Abstract
There are few procedures in oculofacial plastic surgery more gratifying to the surgeon and patient than upper blepharoplasty. Keys to success are a strong patient-physician relationship and making certain that the desired goals are also realistic expectations.

We avoid removing upper eyelid skin that would leave less than 20–22 mm between the eyelid margin and the brow cilia.

Patients should marked in an upright position.

We wipe the skin with alcohol to remove oils prior to marking to ensure the surgical markings will remain after patient prepping.

We use the extra-fine point skin marker by Scanlan™ (1-800-328-9458) as it has an ultra-fine tip and allows extremely precise marking (Figure 19.1). The white cap on the bottom of the marker is approximately 10 mm in length and readily serves as a quick way to estimate the placement of the incision markings (Figure 19.2)

We advise against placing the lower skin incision any lower than 9–10 mm in most eyelids unless the natural crease is lower. Simply marking the patient's natural eyelid crease can be quite variable, and in acquired ptosis patients may be remarkably higher than normal. Symmetry in the lid crease markings is key in upper blepharoplasty.

We then mark the upper incision in the sitting upright position by having the patient gaze straight ahead to help determine the upper extent of the upper blepharoplasty incision.

The bottom white portion of the of the Scanlan marker (Figure 19.2) is used to quickly check that at least 10 mm of eyelid skin remains above and below the marked areas for skin removal.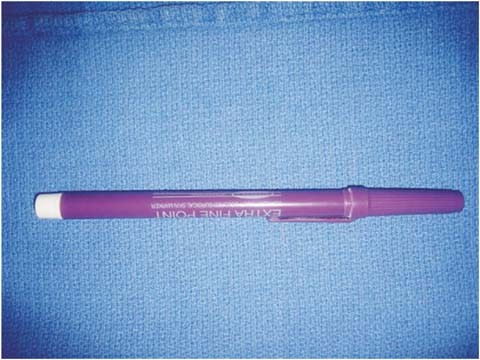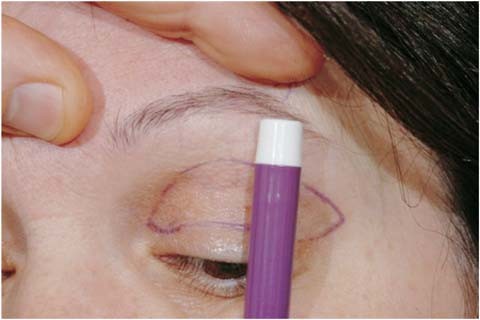 Keywords
Upright Position 
Marked Area 
Lateral Incision 
Eyelid Margin 
Lateral Canthus 
These keywords were added by machine and not by the authors. This process is experimental and the keywords may be updated as the learning algorithm improves.
Copyright information
© Springer Science+Business Media, LLC 2008