Abstract
This chapter reviews the recent progress in aggregation of colloidal particles with long-range interactions, including simple colloids and polyelectrolytes. The relevant interactions between colloidal particles, including Born repulsion, van der Waals, electrostatic, structural solvation, hydrophobic hydrodynamic interactions and attraction between like-charge colloids, charge nonuniformity, and adsorbed polymer, are analyzed. The main types of computer models used for simulation of cluster morphology and aggregation kinetics of the different interacting species (similarly and oppositely charged particles and polyelectrolytes) are reviewed. The main scaling laws for different aggregating kernels that describe diffusion-limited, reaction-limited, gelling, and retarded aggregations are also presented and analyzed.
Graphical Abstract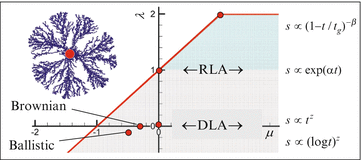 Keywords
Aggregation 
Charged particles 
Colloids 
Kinetics 
Morphology 
Polyelectrolyte complex (PEC) 
Notes
Acknowledgements
The author appreciates the financial support from the National Academy of Sciences of Ukraine and Dr. N. S. Pivovarova for her help with the preparation of the manuscript.
Copyright information
© Springer-Verlag Berlin Heidelberg 2012