Functionalized Biocompatible Nanoparticles for Site-Specific Imaging and Therapeutics
Part of the Advances in Polymer Science book series (POLYMER, volume 247)
Abstract
The applicability of nanoparticles is determined by their unique size-dependent properties, such as their optical and magnetic properties, which make them very attractive candidates for numerous biomedical applications such as drug delivery nanosystems, diagnostic biosensors, and imaging nanoprobes for magnetic resonance imaging contrast agents. Surface chemistry defines the functional properties and biological reactivity of these nanocrystals. Targeted delivery of therapeutics has the potential to localize therapeutic agents to a specific tissue as a mechanism to enhance treatment efficacy and mitigate side effects. Moieties that combine imaging and therapeutic modalities in a single macromolecular construct may confer advantages in the development and applications of nanomedicine. Here, an insight into the development of various kinds of functionalized biocompatible nanoparticles for site-specific imaging and therapeutics is discussed in detail.
Graphical Abstract
Folate-conjugated luminomagnetic nanocarrier-mediated targeted drug delivery, showing receptor-mediated endocytosis of folic acid and drug-conjugated luminomagnetic nanocarriers in cancer cells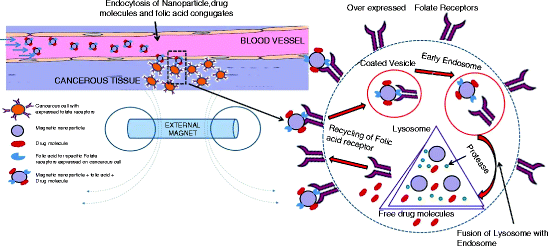 Keywords
Biocompatible 
Cancer diagnostics 
Functionalization 
Imaging 
Nanoparticles 
Surface modification 
Targeted drug delivery 
Notes
Acknowledgements
Authors are thankful to the Department of Science and Technology (DST) and Council of Scientific and Industrial Research (CSIR), India, for supporting the "Nanotechnology Application Centre" under "Nano-Mission" and "NMITLI" schemes.
Copyright information
© Springer-Verlag Berlin Heidelberg 2011