Abstract
Polymerization to and from surfaces using metathesis-based techniques – ring-opening metathesis polymerization (ROMP) and 1-alkyne polymerization – is reviewed. The application of both "grafting from" and "grafting to" techniques along with defined catalytic systems suitable for these purposes is discussed. Special consideration will be given to the specific properties of silica, silicon and organic supports and the resulting requirements for the polymerization catalysts used. The surface-modified materials obtained will be discussed in view of their applications, which mainly fall into the areas of separation science, catalysis and molecular electronics.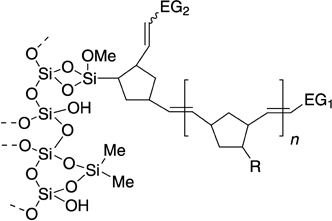 1-Alkyne polymerization 
Grafting 
Ring-opening metathesis polymerization (ROMP) 
Surfaces 
Abbreviations
ATRP

atom-transfer radical polymerization

β-CD

β-cyclodextrin

CMP

contact metathesis polymerization

CSP

chiral stationary phase

CTA

chain-transfer agent

DCPD

dicyclopentadiene

DEDAM

diethyl diallylmalonate

DMAP

dimethylaminopyridine

DMF

dimethylformamide

DMN-H6

1,4,4a,5,8,8a-hexahydro-1,4,5,8-exo-endo-dimethanonaphthalene

DNS

dansyl

EVE

ethyl vinyl ether

Fmoc

fluorenylmethoxycarbonyl

ICP-OES

inductively coupled plasma-optical emission spectroscopy

ISEC

inverse size-exclusion chromatography

NBDE

norbornadiene

NHC

N-heterocyclic carbene

PDI

polydispersity, polydispersity index

PS-DVB

poly(styrene-co-divinylbenzene)

RCM

ring-closing metathesis

SAM

self-assembled monolayer

ROMP

ring-opening metathesis polymerization

SPE

solid-phase extraction

THF

tetrahydrofuran

TOF

turnover frequency

TON

turnover number
Notes
Acknowledgments
Our work was supported in part by grants provided by the Austrian Science Fund (projects P-11740-GEN, P-12963-GEN, START Y-158), the Österreichische Nationalbank (project 7489), the University of Innsbruck, the Industriellenvereinigung Tirol and the European Commission (contracts F14W-CT96-0019 and FIS 1999-00130). I wish to thank all undergraduate, graduate, and postgraduate students involved in the work described in this chapter for their dedication and enthusiasm.