Surface Rearrangement of Diblock Copolymer Brushes—Stimuli Responsive Films
Part of the Advances in Polymer Science book series (POLYMER, volume 198)
Abstract
This article reviews results from our group of the synthesis and characterization of diblock copolymer brushes. Results from the literature are also covered. We report a wide variety of diblock compositions and compare the miscibility of the two blocks with the tendency to rearrange in response to block-selective solvents. Also, we describe the types of polymerization methods that can be utilized to prepare diblock copolymer brushes. We have compared the molecular weight of free polymer and the polymer brush based on results from our laboratory and other research groups; we have concluded that the molecular weight of the free polymer and that of degrafted polymer brushes is similar.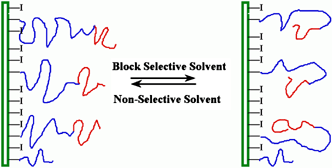 ATRP 
Block copolymers 
Polymer brushes 
Stimuli-responsive 
Thin films 
Abbreviations
ATRP

atom transfer radical polymerization

RAFT

reversible addition fragmentation transfer polymerization

PS

polystyrene

PMMA

poly(methyl methacrylate)

PMA

poly(methyl acrylate)

PDMA

poly(N,N-dimethylacrylamide)

SAM

self-assembled monolayer

PDMAEMA

poly((N,N′-dimethylamino)ethyl methacrylate)

RATRP

reverse atom transfer radical polymerization

PAA

poly(acrylic acid)

PFS

poly(pentafluorostyrene)

PHFA

poly(heptadecafluorodecyl acrylate)

PTFA

poly(trifluoroethyl acrylate)

XPS

X-ray photoelectron spectroscopy

ATR-FTIR

attenuated total reflectance Fourier transform infrared spectroscopy

TGA

thermal gravimetric analysis

PDI

polydispersity index

AFM

atomic force microscopy
Notes
Acknowledgments
The authors would like to acknowledge the financial support of the National Science Foundation (DMR-0729977, DMR-0423786). We also acknowledge Professor Stephen Z. D. Cheng (The University of Akron) for AFM measurements and Dr. Wayne Jennings (Case Western Reserve University MATNET Center) for help with XPS.