Surface-Grafted Polymer Gradients: Formation, Characterization, and Applications
Part of the Advances in Polymer Science book series (POLYMER, volume 198)
Abstract
This review presents to-date progress in the formation of surface-tethered polymer assemblies with gradually varying physico-chemical properties. The typical characteristics of the grafted polymers that may change spatially along the specimen include molecular weight, grafting density on the substrate, and chemical composition. The concept of surface-anchored polymer assemblies is employed in several projects, including, study of the mushroom-to-brush transition in surface-tethered polymers, monitoring kinetics of controlled/"living" radical polymerization, synthesis of surface-anchored copolymers with tunable compositions, and analysis of macromolecular conformations in weakly charged grafted polyelectrolyte and polyampholyte systems. We also discuss the application of grafted polymer gradient systems in studying three-dimensional dispersions of nanosized guest objects. In the aforementioned examples, the use of gradient structures both enables methodical exploration of a system's behavior and facilitates expeditious data measurement and analysis. Furthermore, we outline methods leading to the formation of orthogonal gradients—structures in which two distinct gradients traverse in orthogonal directions. We illustrate the applicability of molecular weight/grafting density orthogonal gradients in organizing nanoparticles and controlling protein adsorption on polymer surfaces. Finally, we identify several areas of science and technology, which will benefit from further advances in the design and formation of gradient assemblies of surface-bound polymers.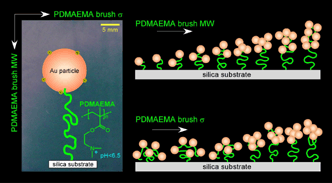 Gradient 
Polymer brush 
Self-assembly 
Nanoparticles 
Protein adsorption 
Abbreviations
3-D

three-dimensional

ATRP

atom transfer radical polymerization

BMPUS

[11-(2-bromo-2-methyl)propionyloxy] undecyltrichlorosilane

CMPE

1-trichlorosilyl-2-(m/p-chloromethylphenyl) ethane

DI

deionized

[DS]

degree of swelling

EGF

epidermal growth factor

FTIR

Fourier transform infrared spectroscopy

GPS

3-glycidoxypropyl trimethoxysilane

h

dry thickness of surface-anchored polymer

H

wet thickness of surface-anchored polymer

[H+]

proton concentration in bulk solution

Hb

height of a grafted polymer in a brush conformation

HDIW

polymer wet thicknesses in "pure" water

H(IS)

polymer wet thicknesses evaluated at a given IS

Hm

height of a grafted polymer in a mushroom conformation

IEP

isoelectric point

IS

solution ionic strength

ISmax

solution ionic strength at the transition from OB to SB

Ka

equilibrium constant of the acid-base equilibrium

MMA

methyl methacrylate

Mn

number average molecular weight of polymer

MW

molecular weight

N

degree of polymerization

NA

Avogadro's number

NB

neutral brush

NEXAFS

near-edge X-ray absorption fine structure

OB

osmotic brush

OTS

n-octyltrichlorosilane

P2VP

poly(2-vinyl pyridine)

PAA

poly(acrylic acid)

PAAm

poly(acryl amide)

PDMAEMA

poly(dimethyl aminoethyl methacrylate)

PE

polyethylene

PEG

poly(ethylene glycol)

PEG-MA

poly(ethylene glycol) methacrylate

PEO

poly(ethylene oxide)

PEY

partial electron yield

PGMA

poly(glycidyl methacrylate)

PHEMA

poly(2-hydroxylethyl methacrylate)

PMAA

poly(methacrylic acid)

PMMA

poly(methyl methacrylate)

PO

paraffin oil

PS

polystyrene

PtBA

poly(tert-butyl acrylate)

Rg

radius of gyration of a polymer

Rp

rate of polymerization

SAM

self-assembled monolayer

SB

salted brush

SE

spectroscopic ellipsometry

SFM

scanning force microscopy

tBA

tert-butyl acrylate

Tg

glass transition temperature of a polymer

XPS

X-ray photoelectron spectroscopy

α

degree of dissociation in bulk solution

αo

"internal" degree of dissociation

Δ, Ψ

ellipsometric angles related to the change of amplitude and phase shift

θDIW

contact angle of deionized water

λ

wavelength of light

v

excluded volume parameter

ve

electrostatic excluded volume parameter

ρ

polymer density

ρs,∞

salt concentration in bulk solution

σ

polymer grafting density

φ

polymer volume fraction

χ

Flory–Huggins interaction parameter
Notes
Acknowledgments
The authors gratefully acknowledge financial support from the National Science Foundation (Grants CTS-0209403, CTS-0403535, and EEC-0403903) and The Camille & Henry Dreyfus Foundation. The NEXAFS experiments were carried out at the National Synchrotron Light Source, Brookhaven National Laboratory, which is supported by the U.S. Department of Energy. The SE was purchased with funds awarded to JG through the NSF's Instrumentation for Materials Research Program (Grant No. DMR-9975780). The work reviewed here would not have been possible without numerous collaborative efforts with several researchers. We thank Dr. Kirill Efimenko (NCSU) and Dr. Daniel Fischer (NIST) for their assistance during the course of the NEXAFS experiments, Dr. Igal Szleifer and Mr. Peng Gong (Purdue University) for the theoretical work involving surface-tethered charged systems, Dr. Andrea Liebmann-Vinson, Mr. Bryce N. Chaney, and Mr. Harry W. Sugg (Becton Dickinson Technologies) for the XPS work and experiments involving protein adsorption on gradient polymer surfaces. Dr. Petr Vlček and Dr. Vladimír Šubr (Institute of Macromolecular Chemistry, Prague, Czech Republic) are thanked for their numerous contributions in characterizing polyelectrolyte macromolecules. We also thank Professor Michael Rubinstein (University of North Carolina at Chapel Hill) for many fruitful discussions about polyampholytes. We also thank Professor Gregory N. Parsons and Professor Stefan Franzen (NCSU) for allowing us to use their SFM and FTIR set-ups. The authors would like to thank Ms. Jan Singhass (NCSU glass shop) for her assistance in building the polymerization apparatus.